UPDATE: 11/24, The autumn course is underway. Here are upcoming courses:
Winter 

– 8 spots left. You can still register

This session is US time zone friendly, but anybody in the world is welcome to attend. If your time zone is not listed there are many good online tools to convert, we have found this one to be useful. Please be mindful of daylight savings time.

Pacific time: Sat-Sun 6:00-9:15am and 10:15am-1:30pm, Tue-Wed-Thu 6-9:15am (PST)

London time: Sat-Sun 14:00-17:15 and 18:15-21:30, Tue-Wed-Thu 14:00-17:15 (GMT)

Hong Kong time: Sat-Sun 22:00-01:15 and 02:15-05:30, Tue-Wed-Thu 22:00-01:15 (HKT)

Those interested in the Winter course (starting Jan 2) can contact organizers via http://www.ocbs.org/courses/pali-online-school/
The Oxford Centre for Buddhist Studies has announced an online Pali course, designed to get students reading Pali suttas in under four weeks.
Professor Richard Gombrich, author of What the Buddha Thought (2009), Theravada Buddhism: A Social History from Ancient Benares to Modern Colombo (1988/2006), How Buddhism Began: The Conditioned Genesis of the Early Teachings (1997/2011) along with other scholarly books and numerous articles will teach the class in live Skype and/or Google Hangouts sessions to students  around the world.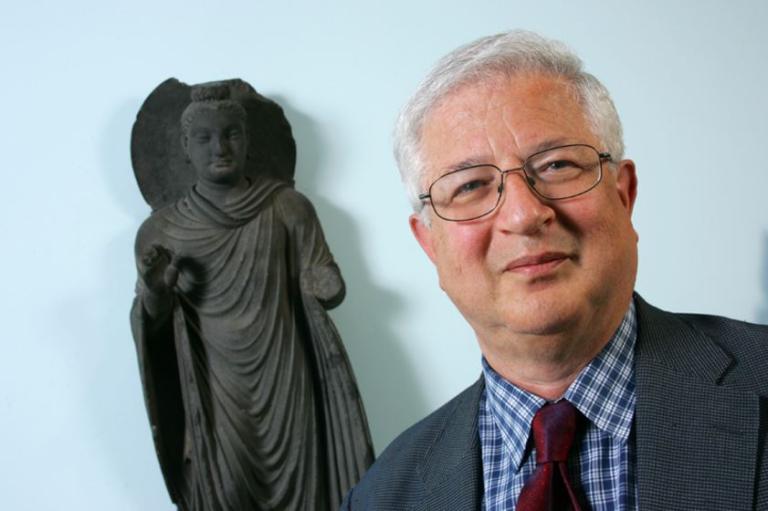 Prof. Gombrich has run hugely successful Pali Summer Schools in Oxford, England for a number of years now, and has extended this course to students in Budapest in recent years. Having studied with him at the 2011 Pali Summer School, I can attest to his engaging and direct method and the success that his students experience in reading Pali after a short period of instruction. Students from a variety of backgrounds including academics, interested practitioners, and monastics, traveled from around the world (quite literally) to spend two weeks in Oxford for this class. A student, Paul Trafford, who took the class in 2008 class wrote a thorough review. He writes, in part:
I found Prof. Gombrich not only immensely knowledgeable, but also very well organised, presenting a set of materials consisting of what we really needed to know in an order to have a good go at translating a variety of passages from the suttas. There's as much skill in knowing what to leave out or only touch on as in knowing what to include! He is very clear in delivery and provides very helpful (and patient) explanations. When translating, he seemed to pick out straightforward meanings that were well informed by his knowledge of Indian society and culture at the time. And he's very humorous too. 🙂 I think just the mere fact that we were there attempting to learn Pali was a source of happiness for him as he strongly believes that there is a severe paucity in this area.
Listen to Prof Gombrich discuss Buddhism and the founding of the Oxford Centre for Buddhist Studies back in 2009 here.
Those interested in going deeper into their study and understanding of Buddhism will benefit greatly from learning Pali, a language that brings us quite close to the actual words of the Buddha and to those living and practicing in his time in N.E. India.
The course fee is £500, or around $770 USD. While that may make it prohibitively expensive for some students, those serious about the language should be able to find the means – remembering that the in-person class has filled up each year with many people paying international air travel and accommodation costs several times more than this. While Prof. Gombrich offers his teaching for free, this money will help cover IT costs, administration, and other expenses incurred by the OCBS. As stated on the course website:
Q: Why is the course so expensive/so cheap?
A: We have been criticized for charging too little money for the course. Given that all classes are delivered live, that there is personal attention given to each student and that I am offering my own time for free we think the course is very cheap, especially in comparison with other online and in-person courses.

After teaching Sanskrit, Pali and related subjects at Oxford University for 39 years, I took mandatory retirement in 2004 on reaching the age of 67. The University is under great financial pressure and it seemed unlikely that anyone would be appointed after me to carry on my teaching of Pali and of early Buddhism. I therefore decided to found the Oxford Centre for Buddhist Studies – OCBS – to carry on this tradition. The University has no financial responsibility for us and I had to found it with my own money. Ever since then, fundraising has had to be my main concern. I started from the idealistic position that a subject like Buddhism should be taught without fees, but I have had to face the fact that in our society that is not tenable.

In fact the funding that this course will provide is vital for the OCBS. So thank you for your generosity and your understanding in advance.
Winter 

– 8 spots left

This session is US time zone friendly, but anybody in the world is welcome to attend. If your time zone is not listed there are many good online tools to convert, we have found this one to be useful. Please be mindful of daylight savings time.

Pacific time: Sat-Sun 6:00-9:15am and 10:15am-1:30pm, Tue-Wed-Thu 6-9:15am (PST)

London time: Sat-Sun 14:00-17:15 and 18:15-21:30, Tue-Wed-Thu 14:00-17:15 (GMT)

Hong Kong time: Sat-Sun 22:00-01:15 and 02:15-05:30, Tue-Wed-Thu 22:00-01:15 (HKT)

Spring 

– 11 spots left

Course: Mar 19 – Apr 10, 2016

This session is Asia time zone friendly, but anybody in the world is welcome to attend. If your time zone is not listed there are many good online tools to convert, we have found this one to be useful. Please be mindful of daylight savings time.

Hong Kong time: Sat-Sun 15:00-18:15 and 19:15-22:30, Tue-Wed-Thu 19:15-22:30 (HKT)

London time: Sat-Sun 7:00-10:15 and 11:15-14:30, Tue-Wed-Thu 11:15-14:30 (BST)

Pacific time: Sat-Sun 7:00-10:15 and 11:15-14:30, Tue-Wed-Thu 11:15-14:30 (PDT)