This month, photographer Jesse Rockwell posted images of Larung Gar, a vast monastic complex in eastern Tibet (in China's Sichuan Province) housing as many as 40,000 Tibetan Buddhist monks and nuns (10,000 being a more likely number).
Last July Larung Gar was in the news, as the Chinese government began their demolition of structures there, threatening up to half of the monastics in the area.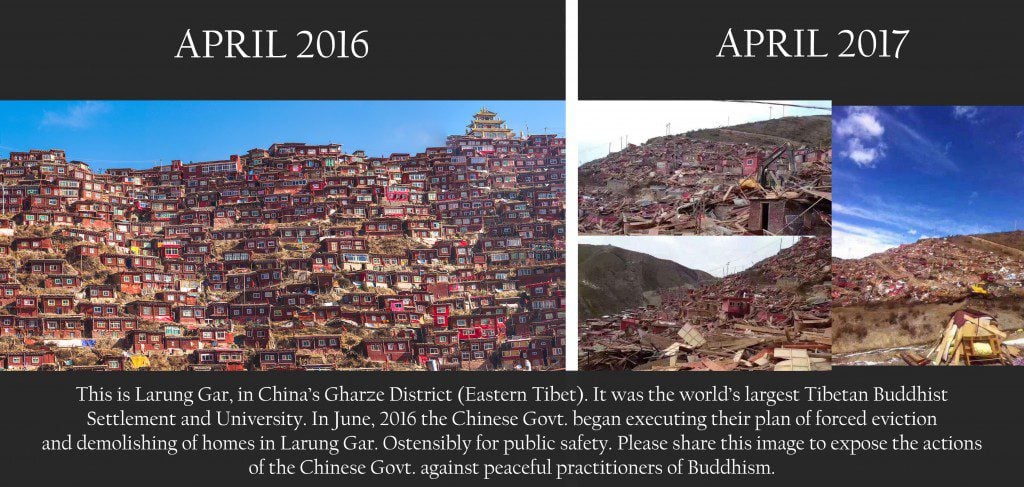 Click on the image for a larger image.
As the image notes, Larung Gar was the world's largest Tibetan Buddhist settlement and university. The sprawling mountain city had grown rapidly since the 80s, as the Nyingma teacher Khenpo Jigme Phuntsok and others have drawn throngs of eager disciples from both Tibet and around the world. The Chinese government, wary of any and all cultural or religious activities that might grow beyond their control or draw unwanted attention to the Tibet cause, attempted to expel thousands of monastics in June of last year. Failing in this, the government began wholesale destruction of structures the following month.
In August it emerged that at least one Tibetan nun had taken her life in protest to the destruction. From that post:
RFA reports on the nun, Rinzin Dolma:
She lived on Pema Khado Road inside the Larung Gar complex, he said.

"Rinzin Dolma was from the Dege region, and she was studying at the complex as a regular student," the source said. "She left a note behind in which she wrote about how she could not bear the pain of the endless Chinese harassment of innocent Buddhists who quietly studied at the institute."

"She also left some money that she requested in the note to be handed over the institute," he said.

Strict controls on communication in the region prevented news of the suicide from reaching the outside world at the time.
Then two more Tibetan nuns committed suicide the following month.
The destruction of Larung Gar follows a pattern of demolition and displacement that goes back decades in China's continued occupation of Tibet, as portrayed in the documentary: Bulldozing Tibet (See below). For those in Australia, there is a wonderful short interview with Prof John Powers on the plight of the Tibetan people in occupied Tibet.
Powers is a well-respected scholar of Tibet and Tibetan Buddhism and author of History As Propaganda: Tibetan Exiles versus the People's Republic of China (2004). Those interested in supporting Tibetans under Chinese occupation and around the world can find more information at https://www.savetibet.org/.
Support independent coverage of Buddhism by joining a community of fellow learners/practitioners at Patreon.
'Like' American Buddhist Perspectives on facebook.