You ever wake up and ask yourself, "What the heck am I doing with my life?"
I was 100% there a little over a year ago, when I was working full time at The Apple Store. Each day I woke up and felt like I was just watching my life pass by me. Frustrated with God, not because I had a terrible job (honestly – Apple is an amazing place to work) but because I knew that this wasn't what I was supposed to be doing.
Ralph Emerson once said, "To be yourself in a world that is constantly trying to make you something else is the greatest accomplishment."
I think this resonates with most of us because we understand the struggle in simply being ourselves. With family, friends, advertisements, pastors, and whatever else seems to be telling us to be something in which we know we're not.
It's kind of sad that this is where a majority of our lives fall, we choose to give others more control than they should have over our lives. I'd be lead to assume that a majority of the adults in America are not living out their dream, their purpose, or their calling. They somehow started with "Plan-A" but took a detour and since then have stayed on "Plan-B".
I think one of my biggest fears is one day waking up and realizing I've done nothing substantial with my life. This is partly why I left the Church, and why I still don't go to church. I wanted more than the security of a well paying job, I wanted what Viktor Frankl says to be the unintended side effect of one's personal dedication to a cause greater than oneself, for me, the church was not that.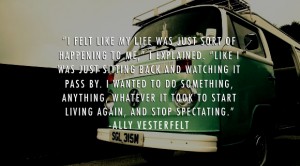 This is why I'm constantly looking for people, friends, family, bloggers who go against the grain, despite what society tells them and they chase the story in which they feel they've been created for. I feel as if most of you can relate.
A while back I started following a blogger named Allison Vesterfelt. I'm not sure how I came across her blog, but I'm glad that I did! Her and her husband Darrell Vesterfelt founded Prodigal Magazine in which I'm sure most of you have heard about or come across at some point.
Just as I started following Ally she had made a drastic change in her life and decided to quit her job, move out of her apartment, and sell her things to go on a cross country road trip with her musically talented friend Sharaya Mikael. During this time Ally played as road manager, CD Sales person, and blogger. Though her goal was not only to go on an adventurous road trip, but it was to pursue her dream.
It was anything but easy for her. You can read through her journey of all 50 states, on right here.
One of the reason's I started following Ally was because she was living a story worth reading about. It wasn't just that Ally was a gifted writer, or a young relatable twenty-something, it was that she did what many of us want to do:
She changed/altered the course of her life, she threw caution to the wind, and pursued her dream.
Her dream was to eventually become a writer. Though she dealt with the tension of wanting security and safety, in which she found in her day job, but at the same time dealing with discontentment and the feeling of something missing. Crazy part is, she not only let go of control and embraced the unexpected, but she fulfilled her dream and since then has been published!
I wrote here how hard our journey's can be and how we must keep going. In light of that I wanted to share with you guys Ally's new book "Packing Light". It's a book that one can not only live vicariously through, but a book that one can easily relate too in regards to the feeling of discontentment, lack up control, and taking risks!
This week I'm going to give away a free copy of Ally's book, if you want a copy of the book Subscribe to this blog below, put your full name and email, then head over to my Facebook page and click like, out of all you I'll choose two people, one in which will get a hardcopy and the other who will receive an electronic copy!