I love parades. Most parades are really boring, though. I find them mostly to be advertising: business sponsor floats but seem to be the highlight, politicians hand out fliers. Bah humbug.
But when a parade is done well, oh it is a joyful thing! The kid in me gets all worked up. I never know what is coming next. Costumes? Bands? Possibly a marching band?
This time last year my family was new to Olympia. Had we heard about the Procession of the Species? And Spring Arts Walk? No, we had not. Turns out it is perhaps the biggest event in this community. As far as I can see, it is just about the most rad.
Starting today there is art in all the business downtown. Local artists of every medium display their work. Most of it is for sale. There is music all weekend, in the parks, in the streets, in the bars. Last year, my husband and I bought a beautiful hand turned, inlaid wooden bowl. On Friday night there is a Luminary Procession parade, representing night time life. (We haven't gone because our kids are too young to stay up that late for a parade.) Saturday is a huge parade through town. People choose an element and then dress up, often in elaborate costumes, representing a species in that element. (If you didn't click the link above, please take some time to click now to get an idea of how beautiful these costumes are! Truly, I'd never seen anything like them before!)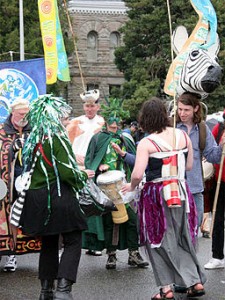 My son attends an arts based preschool and they always walk in the parade. Last year, he was an elephant and my husband accompanied him while I held the baby and squealed with glee like I was a 5 year old. This year my son is dressing up as a garden and I am walking with him. While I admit I am disappointed that I won't get to see the groups process, I'm excited to see this community from the other side. I get to participate in something that is quintessentially Olympia!
I'm terrible at crafts and costumes. Just down right awful. I haven't even given any thought to dressing up for the parade. Apparently parents for our group are being encouraged to dress in their gardening clothes. Um, I don't have any. Because I don't garden. I'll think of something! Maybe.
One of these years I'd love to get involved with the Procession studios. From what I understand, the city creates several studios where people can just show up and work on their floats and costumes (rules are: no words, everything must be powered by human energy). I'd love to dress the family up as peacocks one year…..
Next week I hope to post pictures that my husband takes. And I'll report back about my experience in this quintessential Olympian event.