I hate to admit it, but I never saw the epic 1959 movie Ben-Hur, starring Charlton Heston, until just last month. I had been invited to see an advance screening of the new Ben-Hur coming out this summer — starring Jack Huston, Toby Kebbell, Morgan Freeman, and Rodrigo Santoro as Jesus — so I figured I'd better do my homework. I downloaded the huge movie file (the original is nearly 4 hours long) and settled in to see what all the fuss was about. (It won a record 11 Academy awards, an accomplishment that was not equaled until Titanic in 1997 and then again by The Lord of the Rings: The Return of the King in 2003).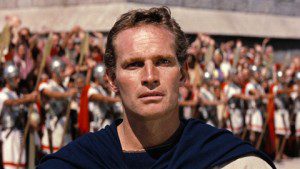 True to its fame, Heston's Ben-Hur was awesome. Grand in its cinematic scope and rich in its classic story of betrayal and revenge, the film captivated my head and heart, even as I laughed over that film era's penchant for overly dramatic acting, unbearably long romantic gazes and foreigners played by white men with lots of dark face paint. I found the story, like legions of people before me, utterly compelling and exciting. The story of the Jewish prince Judah Ben-Hur's betrayal by his adopted brother Messala, an officer in the Roman army, and the subsequent exile and return that follows, is as captivating today as it was when first penned as a novel by author Lew Wallace in 1880.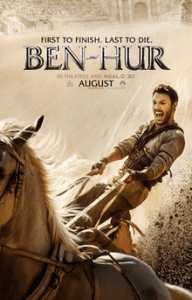 So after watching Heston's Ben-Hur, I was even more eager to see how a modern take on this film would play. How would the Paramount/MGM film, produced in part by Mark Burnett and Roma Downey, be presented today? Would the story still sell? How would it change? Could anyone compare to Charlton Heston? And most of all, would it still clock in at 4+ hours? I'm delighted to say the new Ben-Hur doesn't disappoint (and gets the job done in half the time of the original).
While I can't say much more about the movie until the release date, I
can
say it's worth getting excited for. The acting is superb, the sets, scenery and costumes are gorgeous, the story is as compelling as ever — even with a few plot twists and changes from the original — and the chariot ride … well, the chariot ride is an edge-of-your-seat, thrill-a-
minute, hold-your-breath race to the finish line. Two women sitting next to me at the screening were gripping their arm rests, gasping out loud, and shielding their eyes during the epic crashes. After the screening, we learned that the chariot race alone took 40 days to film for an 11-minute scene and the two lead actors actually rode the chariots — commandeering four powerful horses each — for most of the filming.
Before the screening, Downey and Burnett came out to introduce the film, describing it as their biggest, most epic project yet. They were clearly thrilled about the film. "It's really, really great," gushed Burnett several times to the audience. In the production notes, Burnett explains why they took this on: "Charlton Heston's Ben-Hur is one of my all-time favorites. It was truly an amazing spectacle, especially for the time in which it was made. As much as that film means to me and so many others, my own teenagers had never heard of it. I realized there was a massive audience ready for a fresh approach to this classic story and with all the advances in filmmaking since then, we can create a spectacle even more thrilling for a modern audience."
And of the faith aspect of the film for a 21st Century audience? "If you watch this movie, and you've never read the Bible, you'll enjoy the story, the action and adventure," said Downey. "If you are a Christian, the film will mean that much more to you." I imagine their hope is that the Jesus character in the film — who is much more visible and prominent in this new version — might touch some new hearts as well. And at the very least, they hope that the film's overarching themes of forgiveness and healing will resonate in our world, a world they agree, is in desperate need of such things.
Ben-Hur releases nationwide August 19. Visit the Patheos Movie Club on Ben-Hur for much more!