First things first. The USCCB has organized "Nine Days of Prayer, Penance and Pilgrimage" to coincide with Roe v. Wade and the March for Life. Because they're getting all technologically savvy these days, they've set up a totally neat system to make this novena a communal effort.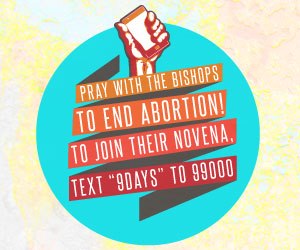 All you have to do is text "9days" to 99000 to receive the novena by text message. This is really awesome, especially for people like me who usually forget about the novena by day 2 (3.5 was my all-time record) and then spend two hours saying the prayers over and over like two weeks later to make up for it. And since it is only nine days, I hope to fare better with this bit of Church tech than I did with those Catechism emails that are mostly unopened in my inbox. I actually did make a separate file for them, though, because I didn't want them to feel too neglected.
Second, just look at how kick-ass the Anchoress is! She put up an exclusive first look at Fr. Robert Barron's new project on the New Evangelization! Check it out on the landing page.
Finally, the inappropriate comment of the day. In a new and exciting development, this one is brought to you by my youngest daughter, Charlotte, taken from a conversation she had with a sweet grandmother at the park yesterday.
Grandmother: What's your name?
Charlotte: Stella.
Grandmother: Nice to meet you, Stella!
Me: Actually her name's Charlotte, she's just…creative.
Grandmother: (chuckles)
Charlotte: Yeah, I'm cwative and I know a boy named Hawwy Houser, and when I'm five I'm going to mawwy him, and we'we going to kiss like this! *opens mouth, sticks out tongue and waves it around*
Me: *involuntarily clapping my hands to my cheeks to cover my red face of shame* "Charlotte!"

Grandmother: (laughs heartily) Well, my, my. I'm sorry to tell you my dear, but you are certainly going to have your hands full with this one.
Me: I know.
Oh, how I know.