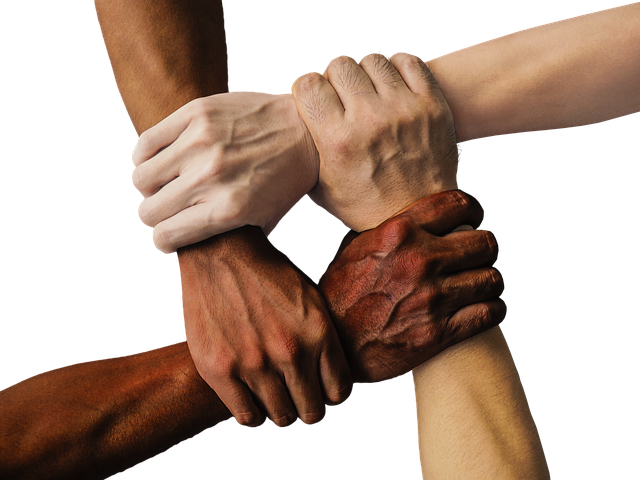 Love One Another!
On the night before he died, Jesus gave us one of the most challenging commands imaginable – Love One Another. In my opinion, it's the single most difficult part of being a Christian.
"I give you a new commandment: love one another. As I have loved you, so you also should love one another." (John 13:34)
I don't know about you, but I struggle with this every day. Jesus commands me to love everyone with the same self-sacrificing love that he has for me. Yesterday, I received an email that opened my eyes and reminded me that I have a long way to go.
Agreeing To Disagree
Here's how it started…
Well, I don't know that much about you, but I gather that you would not agree with my theology or practice of the faith. I am a gay man, a gay Catholic. I support LGBT rights in the church and in the world. I believe in women's ordination and a woman's right to choose for herself. I'm a Democrat.
For someone who doesn't know much about me, his analysis was spot on. I braced myself and prepared for the worst. Where was he going with this?
A Challenge…
As I continued to read, the email took an unexpected twist…
In the past, I have noticed when two people who are at opposite ends of an issue in the faith, when a Democrat prays for the Republican, or vice versa, things happen. You and I SEEM like we would be the least likely to be friends in real life, so it's important we pray for each other. For some reason, God loves this.
Hmm. I didn't see this coming and it stopped me in my tracks. What a great idea! It's way too easy to dismiss that person who believes differently than you. I've done it more times than I can remember, but it goes against what Jesus commands us to do. Just because we disagree with someone, doesn't mean that we shouldn't love them. Prayer is a great way to begin.
The Blessedness Of Unity
This email made me think of Psalm 133, which emphasizes the importance of living in harmony…
How good and how pleasant it is, when brothers dwell together as one! Like fine oil on the head, running down upon the beard, Upon the beard of Aaron, upon the collar of his robe. Like dew of Hermon coming down upon the mountains of Zion. There the LORD has decreed a blessing, life for evermore!
What Can I Say?
After struggling to come up with my closing message for this post, I realized that I didn't need one. My brother in Christ already said everything that needed to be said. In reading his words, I realized that there are too many times that I don't love like Jesus wants me to love. I need to get better at this and I will definitely be praying for him. I'm glad that he's praying for me too.
How about you? Who is that person (or persons) in your life? Will you pray that God will bless them today? Not only will it bring you peace, but it will make Jesus very happy.
If anyone says, "I love God," but hates his brother, he is a liar; for whoever does not love a brother whom he has seen cannot love God whom he has not seen. (1 John 4:20)
Like what you're reading? Click HERE to get BE NOT AFRAID with GARY ZIMAK delivered to your inbox each day for FREE!