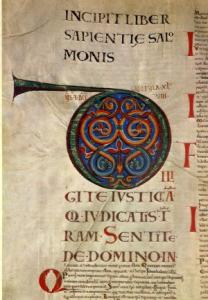 We are at the end of Week Two, the week of Faith. We have talked about how faith is more than a belief, but also an action. We have talked about telling stories of faith and have come up with ideas for how to help people have faith in themselves and what God hopes for them.
All of this is wonderful, but we also must remember the foundation of faith in this Advent season; Jesus Christ.
The author of Hebrews reminds us that we are to keep our eyes on Jesus who is the "author and finisher" of our faith. Hebrews 12:2
There is a tool that many Christians have used for over 1500 years to help them keep their eyes on Jesus during the Advent season called the "O Antiphons."
Historically Christians would take time to prayerfully meditate on a different messianic title for Jesus, a title that describes a way in which Jesus is
the fulfillment of God's promise to bring about his kingdom through an anointed ruler.
There is a different O Antiphon for each of the seven days leading up to Christmas Eve.
O Wisdom (Traditionally prayed December 17th)
You came forth from the mouth of the Most High, and reaching from beginning to end. You ordered all things mightily and sweetly. Come, and teach us the way of prudence.
O Lord and Ruler (Traditionally prayed December 18th)
O Lord and Ruler of the house of Israel, You appeared to Moses in the fire of the burning bush and on Mount Sinai gave him Your Law. Come, and with an outstretched arm redeem us.
O Root of Jesse (Traditionally prayed December 19th)
O Root of Jesse, you stand as a sign for the peoples; before you kings shall keep silence and to you all nations shall have recourse. Come, save us, and do not delay.
O Key of David (Traditionally prayed December 20th)
O Key of David and Scepter of the House of Israel; you open and no man closes; you close and no man opens. Come, and deliver from the chains of prison those who sit in darkness and in the shadow of death.
O Rising Dawn (Traditionally prayed December 21st)
O Rising Dawn, Radiance of the Light eternal and Sun of Justice: come and enlighten those who sit in darkness and in the shadow of death.
O King of the Gentiles (Traditionally prayed December 22nd)
O King of the Gentiles and the Desired of all, you are the cornerstone that binds two into one. Come, and save man whom you fashioned out of clay.
O Emmanuel (Traditionally prayed December 23rd)
O Emmanuel, our King and Lawgiver, the Expected of the nations and their Savior. Come and save us, O Lord our God.
---
Action for Today
Review the Messianic titles for Christ
Which one strikes you the most?
Why do you think that is?
Is there one that you connect with the least?
How might praying this prayer help you grow into a deeper faith in Jesus?
---
Advent Action Guide
This is an entry in my Advent Action Guide which will be featured all Advent long.
If you're interested in downloading a copy or signing up for daily emails for the rest of the season fill out the form below: