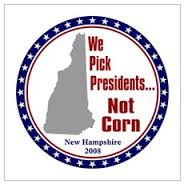 Here in New Hampshire, three weeks before the primary, there is no escaping the candidates.
Click up a website on Google, and there they all are, pulsing their themes  in ads that invite you to click to see – and hear – them.  Turn on the TV and  their ads run back to back all through the nightly news, and increasingly more often as the days count down. Mailboxes are full of their fliers and the phone rings all evening long, as twelve Republicans and three Democrats vie for our votes.
They are all offering political salvation, an end to the troubles that afflict us as a nation and the beginning of better days. Back to greatness and forward to good times. Those are the promises, and the specifics range from more health care to less, and from walls to carpet bombs to keep fear at bay.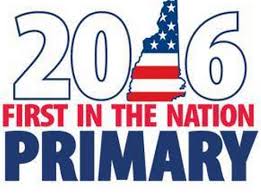 It is in the midst of this that we will be reading Luke 4, Jesus' public announcement in his home-town synagogue of his ministry, and his work among us for our salvation. He was anointed by the Spirit, he said, to bring good news to the poor, release to captives, recovery of sight to the blind, to let the oppressed go free, and to proclaim the acceptable year of God, the year of Jubilee.
Not much of this is being focused on in the campaigns this year. One or two candidates are focusing on the economy and how it effects the poor, but most have a focus on terrorist aggression.
There is hardly any mention at all of prisoners or of prisons and their conditions, though President Obama has used his powers to commute a number of sentences that are no longer considered appropriate in most states.
As for war prisoners, there are a few candidates talking about locking people up in Guantanamo forever, and a few talking about helping vets, but no major emphasis here.
Much work has been done, because of Jesus' words, for the blind. Yet Jesus' words are as much about those who lack compassion as they are about those with physical blindness.
There is more emphasis on keeping the oppressed out of our nation than on helping them go free. And as for the Acceptable Year, which biblically is a year of redistribution of wealth and land, black intellectual Ta-Nehisi Coates seems to be the only one talking about that.
Granted, Luke's gospel was written before there was a USA, before there were European nations, and before there were democratic elections for presidents. And it is a stretch to assume that Jesus' spoken words, read from Isaiah, are the appropriate agenda for would-be world leaders.
Yet they strike me as the remedy we need, for our broken economy, our highest-in-the-western world rate of imprisonment and the shockingly large proportion of our prisoners who are black and Latino. And they ring true as the decent and moral response to throngs of oppressed refugees desperately seeking freedom.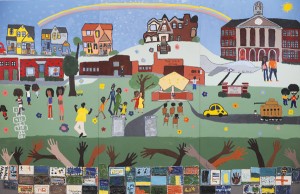 As a nation and across the world, we are deeply divided in our responses to refugees, the poor, and minorities. Ancient as Jesus' words are, and belonging as they do to a culture almost completely unfamiliar in our world, still there is a ring of truth, that these are the priorities we must embrace, and the Holy Spirit of Christ anoints us all to these works.
Jesus' words challenge us to choose to hear that he has not come to save us individually, apart from one another, or privately, through our personal belief, but he comes for us all, and is revealed in us and through us, as we reach out to embrace one another's needs.
So many of our candidates profess to be Christian evangelicals – it would be a welcome wonder if one of them were to have the courage to stand up in an ad on TV and read Jesus' agenda.
__________________________________________________________________________________________________
Illustrations:
1. New Hampshire Primary poster.
2. New Hampshire Primary Poster.
3. A Button for the Disgusted Voter.
4.History of Our Community. Gannick, Becca and Preston Taylor YMCA Boys and Girls Club Mural. 2009 Nashville, TN. Vanderbilt Divinity School Library, Art in the Christian Tradition.