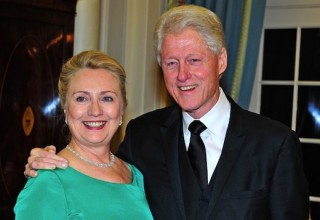 In the gospels are several versions of Jesus' wedding banquet story: in one the guests don't show up so the ordinary nobodies of this world get invited in.
In another, the bridegroom comes late, so half the bridesmaids (and there were twenty – oh my!) take off to go shopping, sure they have enough time, and they then are late, the wedding is underway, and the door locked.
In this week's tale, the bridegroom is late getting home from the wedding, and Jesus' focus is on what the servants do in that time – do they slack off and get caught and punished, or are they vigilant, to please their master?
In the last one, of course, the wine runs out, and Mary prods Jesus into the miracle of more.
So Jesus liked this setting as a place to raise questions about relationships, what we owe one another.
And here we are, coming along on the heels of the RNC and DNC conventions, with all their talk about unity and loyalty and what is needed now, and the traditional inclusion in each of the spouse's testimony about the candidate's marriage.
Jesus stories raise those questions – but never of the bride and groom. He does not focus on the married couple, but rather on the world around them, in which their marriage occurs.
Yet, we lay all the duties and the slacking off at their bedroom door. And we want to get a look at their marriage, before we let them in the White House.
We all know oh-so-many details about Bill Clinton and Monica Lewinsky. And there were lurid details about Marla Maples, Trump's second wife. Nude photos of Melania Trump have emerged, taken before her marriage, and rumors about Bill abound. What will happen if we put them in the White House? In all of this speculation, though, we miss Jesus' point, that they depend on our hard work and loyalty, for the success of their public day. How are we, as servants, as friends who have their backs, as guests, as caterers?
American interest in the presidential spouse is not new. Dolly Madison was considered too pretty, and some said she was oversexed and some said more than that, according to Cokie Roberts' histories of the Ladies of Liberty.
Thomas Jefferson was a widower in the White House, and his daughter played the hostess role at public functions. The fact that he went to bed with his slave, Sally Hemmings, with whom he had six more children, all slaves, was not written about until the late 20th century.
The list of presidents with wives who accompanied them in public and mistresses or bed-partners-du-jour is long. For the most part, the press has reported only on the wives. Until the Clintons.
Mamie Eisenhower, for instance, whose favorite color, pink, became the rage, whose bangs were copied in hair salons all over the country, never had to read about Dwight's long-time mistress in the press. Nor did Eleanor Roosevelt or Jacqueline Kennedy or Barbara Bush, or many more, whose husband's privacy was protected from scandal.
The RNC broke that barrier when Bill Clinton was in his second term. And we all had to witness the humiliation of an accomplished man who stood exposed and vulnerable before Congress, the nation and his wife.
The Clintons are still married.
All long marriages have within them chapters of pain and disappointment, emotional infidelity which may or may not include affairs (money, meanness, addiction, cause similar anguish in the family), and emotional fidelity to each other and the home they have made together which may or may not include sexual fidelity.
A therapist I know is convinced by therapist friends that the Clintons spent a year and a half in therapy after leaving the White House, time in which they worked on their pain and their devotion, and on recovenanting the meaning of their marriage.
Is it true? To me, it seems true. On the campaign trail they are not emotionally distant from each other. Their child, Chelsea, beams at them both, which simply could not happen if things had not been sorted in a profound way. Their grandparental joy is full of mutual details, indicating they keep each other informed about little things, as well as sharing many moments.
And so I praise the Clintons for being willing to work on their marriage. I praise them for hanging onto the value their years together have held, and putting the pain of those years into perspective. Forgiveness is the toughest sell in Christianity, because it involves working at deep pain. And they have. Stronger Together, Hillary Clinton's slogan, refers to their marriage as much as it does, and rightfully does, to the community in which their marriage occurs, the public life of this nation.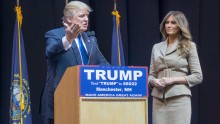 Melania Trump had a hard time with her talk. Beautiful, poised, speaking in her third language, she held herself proudly, but was discovered to have plagiarized the words about her love. I wonder if it reflects the stiff formality in which they live, that intimate words about Donald were hard for her to find. Trump has close bonds with his grown children, and is a devoted and doting father. His wives, though, are more for show than for sharing.
With the Clintons, we get a real marriage. Everyone understands it, and how very strong it has become. There is a lot they could teach us. The real lesson to be learned though, is that it is up to us, to make a context where marriages can survive. Up to us.
__________________________________________________________
Images: Bill and Hillary Clinton, Degrassi, Wiki Ships, wikia.org image.
Donald and Melania Trump, Wikipedia.org image.