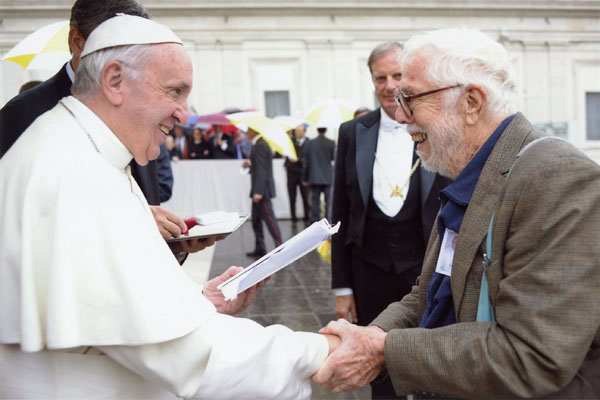 So if you remember the day Kennedy was shot in Dallas, 54 years ago, you really do know the world can change completely in an unexpected moment.
And Advent begins with that thought, every year. Incredibly, we are urged to be prepared. But really, how can you? Utterly confounding events erase all our expectations, and all our preparations at the same time, for you cannot prepare for what you did not imagine.
So really the admonition is just to live as your better self always, so whatever happens, your soul will be channeling your Higher Power.
And after all, isn't that what the Christmas story is about? A poor woman and her husband, lost in a mystery, alone in strange city, too poor to buy their way into an overcrowded hotel. And she gives birth in a stable, unexpectedly, and they make do.
Harvey Cox, Emeritus Professor of theology at Harvard, and my mentor, academic advisor, and friend, has a new book out, called The Market As God, an exploration of the imperial conquest of the values of all our human institutions, even the church, by the values of the global consumer economy.
In late October, a small group of us went with Cox to explore what he calls an insider's Rome, and while we were there, Cox got a Papal audience and presented Pope Francis with a copy of his new book, which is dedicated to Pope Francis.
This an unusual endearment from a liberal Protestant theologian, and it represents a profound recognition that we need to wage a serious battle for the soul of this world right now, and that the Pope is already fearlessly challenging the values at work in the economics of our world.
All this happened before the US election.
And the newly elected Donald Trump is a prime example of the worship of riches and disdain for the poor, who are in his parlance, losers. Where the gospel honors the suffering of all afflicted people, the President elect is openly scornful of the heroism of suffering.
The presence of God will, according to the prophets, upend these market values. So say the prophets, Jesus, and his gobsmacked disciples wandering around the Roman empire in the years after his death.
Hardly anyone is gobsmacked in this world anymore. That may be a sign of the nearness, say the prophets. The Christmas Child was born into a time of hate, not a world of love.
And hate is surely on the rise here. In the first week after the election, there were 800 reported incidents of race hate in the US, ranging from Muslim girls having their head scarves pulled off to high school girls having their crotches grabbed by jeering boys who shouted If the president can do it so can I, and by hundreds of swastikas and N words scrawled on doors, walls, windows, even one place where two side-by-side water fountains, the lower one for wheelchair users, now had a sign on that lower one: Blacks.
Hate was rampant in Israel that first Christmas, too. A census had been ordered, to try to control the migrating minorities and make sure they paid their taxes. And an army was sent out to destroy the Christ Child.
In the wildness of our times, then, we struggle to keep ahead of the violence and out of harm's way, holding onto the thought that an earth-changing moment is coming, a God-struck moment, when lowly messengers, sheep and donkeys, grizzled shepherds, a star, and the motley assortment of the rest of us, will start spreading the news that the values are changing.
That money is no longer Lord.
That power no longer keeps us safe.
That peace does not emerge from armies, but from love.
That if we love one another, then God is for us, and if God is for us, who can be against us?
That if we change the way we see this world, we can hold even empires accountable, and we can make them change.
As Henry Miller once said: Our destination is never a place, but always a new way of looking at things.
Keep your eyes open, for you may see amazing things, and angels may appear.
___________________________________________________________________________________________________
Image: Pope Francis and Harvey Cox, presenting him a copy of his book. Image property of Harvey Cox, and appears in the HDS Current, an online newsletter.