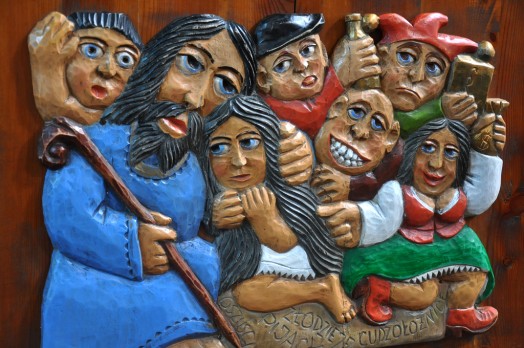 If any can show us the courage it takes to choose the good portion – to leave the world that says you cannot ever go farther than the kitchen door, that says your portion is to clean up the mess and feed the rest of us, that says your job is to satisfy our wants, that says you are have no right to sit in the presence of God – if any can show us that courage, it is Black Americans.
Every day the authorities who rule the ordinary world admonish black Americans for being uppity, for being in the wrong places, for neglecting to perform duties even Jesus knew are not urgent.
Every day injustice is spoken to them, in a world that sees them as inferiors. As waiters, who should be bringing them drinks, not sitting at the table. As the Help, who are on the clock and should not be chatting. As underlings, who should be freeing up the boss, not freeing up themselves.
It also takes courage to be Blue in America. The badge gets you a gun and makes you a target. The job gives you authority and says you are the one who has to deal with the insane, the chemically altered brains, the violent, the haters. And somewhere in the small print, whether you are black or white, the job requires keeping poor black people in their place.
This whole concept, Place, where each of us is meant to be and where we can choose to go instead, was a big thing to Jesus. Jesus, who broke the barriers of place, again and again and again.
On the Jericho road, the beaten man is a story about place. And the Samaritan, the first century's black American, was the only one who knew where the presence of God was, the priest and the lawyer failed to see that cleaning up the mess wasn't below their pay grade, it was above their understanding of holiness, of what makes you human in the sight of God.
Being Blue and on duty in a culture that has decreed whose portion is whose and said you are to enforce the lines, the divisions, the separations, is made all the harder by the guns. Because guns don't make us feel safe, they remind us we may be in danger. Being Blue is having to be alert to rifles everywhere.
Whether our police are white or black or Hispanic, they are tasked with watching for the worst in us.
All of us need to sit at the feet of the One who assures us that we belong. We belong to one another, not to tasks. We belong to one another. We belong to our tears, not to our angers.
Dallas. Baton Rouge. Minneapolis. Orlando. We belong to one another.
__________________________________________________________
Image: Mary of Bethany and Jesus. Wood carving. Paszyn, Poland. Vanderbilt Divinity School Library, Art in the Christian Tradition.