In cities across America, people marched in parades to celebrate Labor Day yesterday. At the first Labor Day in 1882 (occurring a few years before Labor Day became an official holiday in 1894), a number of people marched through the streets of New York City. The march 130 years ago would not have been confused with the marches yesterday, either in purpose or passion.
Walking through various neighborhoods yesterday, I saw flags hanging in front of people's houses. I smelled hamburgers and hotdogs cooking. Online, I read a number of articles and other postings celebrating American workers. For example, the US Census Bureau released this list of facts to celebrate the 155.2 million people currently participating the labor force.
For many, Labor Day is an important event, but the reasons are often very different than the reasons prompting its inclusion in the register of federal holidays. For some it marks the last day of summer before going back to school. Many celebrate local workers (such as the fireman and police), and are thankful for the opportunities they personally have to labor in their own lives. People often come together with family and friends. Without bemoaning these reasons for celebration, we have lost something by not remembering why Labor Day became an official American holiday.
Labor Day was originally founded in part because of class struggle. Early organizers were concerned with two central goals: building and inspiring the organized labor movement, and rallying the public to its cause. In the 1930s, a number of workers were joining labor movements. As Kazin and Ross argue (in their 1992 overview of the history of Labor Day in the United States), even with the variation across the nation in how the day was celebrated, since the 1950s, Labor Day has largely failed to evoke the raw emotions surrounding the contentious issues it once did.
It would be hard to argue that the environment towards organized labor today is a positive one. Most will recall the events of Wisconsin in 2011, when the state—which was, ironically, the first to recognize the collective bargaining rights of workers back in 1959—scaled back such collective bargaining possibilities. Labor movements do not have the strength they once did, although scholars of labor movements recognize the new ways that labor are involved in social movements today.
Organized labor has fewer numbers and fewer allies than it has had in the past. Of the labor force, currently just under 12% are now affiliated with organized labor. This chart, produced by the Bureau of Labor Statistics based on 2011 data, shows how union membership varies by occupation.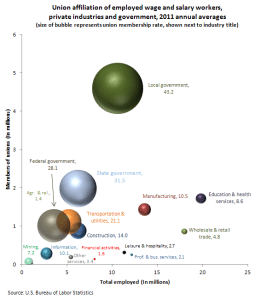 What is it that we have lost, as parades down Main Street replace labor protests?
First, recent research by political scientists at Notre Dame and Texas A&M suggests that labor unions increase the "life satisfaction" of members—and non-members in areas where unions are present. Perhaps especially important, they find that the impact of unions matters more for those with low incomes. While I know readers of this blog will disagree about some of the current tactics and strategies used by unions, it is hard to deny the real effects that collective bargaining has had over the years. They have been critically involved in championing changes to unemployment laws, fighting against discrimination of workers, and changing the working conditions and remuneration of members.
Second, Labor Day was not just a day where laborers worked for their goals and rallied members, but also a time when the general public was made aware of these voices (a point highlighted by Kazin and Ross). Currently, many of those working in parallel jobs to the industries where unions abounded—many of the working poor and working middle class—do not have the same chances to have their voices heard. Workers without economic capital and wealth are often absent from political debates about the economy (as witnessed by the current public rhetoric between democrats and republicans).
I believe that most of us want to be part of a society that provides a chance for all to participate in dignified work. It is imperative that we not just recognize and celebrate all who labor, even as such an act is important. We must also recognize the changes that organized labor have helped to bring about for many Americans, and the lack of power that many laborers continue to feel in our economy.