Harry Potter fans made the news recently for their political victory. Due to four years of advocacy work, all Harry Potter chocolates produced by Warner Brothers are guaranteed to be fairly traded or ethically produced. As I have mentioned in an earlier blog, chocolate is commodity where how its traded  makes a difference, with significant amount of the chocolate sold by popular vendors being linked to child slavery, especially in parts of West Africa. This line sums up the key argument of the Washington Post article:
But Warner Bros.' commitment to new standards for cocoa production grew out of pressure from and dialogue with "Harry Potter" devotees who wanted to see the franchise live up to the ideals their fictional hero fought for.
Having read the entire Harry Potter series this summer with my daughter, I'm pretty sure that the ethical consumption of chocolate isn't a key issue—or really, an issue at all—in the books. However, Harry Potter fans are making connections between economic decisions and the values of "their fictional hero." I've argued that these very connections are, lamentably, often lacking for Christians. Last month, Cambridge University Press release my first book, Free Trade and Faithful Globalization: Saving the Market. In it, I profile three Christian communities: a Canadian ecumenical group, Kairos; the Presbyterian Church (USA); and the Catholic Church in Costa Rica. While the topic of my book is their engagement with international free trade policies, I more generally investigate the ways that religious actors interact with economic life. I find that although these groups vary in their criticisms of  current globalization dynamics, they all agree that the economy, and trade, are topics of moral concern. The book reveals the values that they bring to bear on economic policies, their specific policy aims and objectives, and the varied strategies they employ to influence and shape trade policies.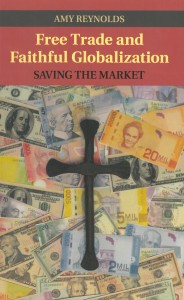 In the final chapter of the book, "Encouraging Religious Communities to Promote the Common Good," I note that one of the key challenges faith communities face is convincing their members that markets are a moral issue. Others (like Steensland in The Quiet Hand of God: Faith-Based Activism and the Public Role of Mainline Protestantism) have argued that it is a central task of churches to raise moral questions about the market; I assert that it is the job of religious communities to "make the market part of one's religious consciousness."  But this is a connection that takes work.  After analyzing the values, political goals, and strategies of different groups, I end with three suggestions for ways religious actors can help people make connections between their faith and economics. First, we have to talk more about what it means to live in community and practice community.  Lots of Christian and non-Christian groups focus on the importance of community over the individual.  But especially in the consumer-driven environment of the West, that isn't easy.  Helping people understand how to prioritize community is an important task of religious leaders.  Second, religious authorities need to use their moral voices to speak into economic life.  With the rise of the 'religious right' in the 80s, many progressive religious actors have been wary to bring religious perspectives into political debates.  But studies of more justice-oriented and progressive political movements have shown that these movements sometimes lack strong ethical and religious voices.  Finally, I argue that many Christians are overwhelmed by discussions about economic policies or the international political economy.  Connecting such macro-level issues with personal experiences is essential. My hope is that as Christians, we might actually become more like Harry Potter fans, willing to engage in political action, as we recognize that a host of economic policies impact our ability to live in true community and right relationship with others.