In a recent email interchange, Brad Wright suggested we go out to celebrate our 400 days of posting on Patheos: Black, White and Gray. Brad didn't know this at the time, but we knew there was a special reason for our gathering. Truth be told, all four of the lead bloggers including Margarita Mooney, Mark Regnerus and yours truly as well as two "regular occasional" bloggers, Amy Reynolds and George Yancey  happened to be attending the annual Society for the Scientific Study of Religion / Religious Research Association Joint Meetings which was held in Phoenix, AZ this year. So it seemed like a good moment to actually meet up. For readers who may not be aware, all of the BWG bloggers are in different institutions all over the country from Connecticut and D.C. to North Carolina, to Texas and Illinois and California. I for one, had only briefly met some of the bloggers, so an actual face-to-face meeting helped build a sense of lived reality apart from the digital voice we project on this blog. And because of my habit for taking pictures of fancy food and places I've eaten, the BWG team designated that I post on our recent dining experience.
Here's a picture of us with the amazing Chef Christopher at the Monarch Restaurant in nearby Scottsdale.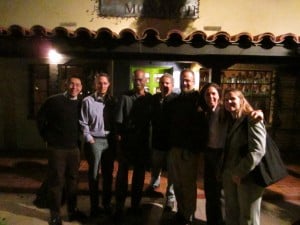 The Monarch has a set menu for a three course meal including an appetizer (the name of which escapes me and there is no menu online), which is pictured here.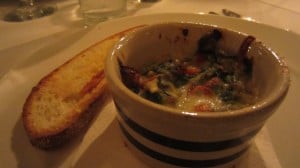 We did a little bit of reflecting and a little bit of discussion on the direction of the blog. I tend to think back to where things began when this kind of meeting occurs. It was at the previous SSSR Annual Meeting that BWG first met in person after several conversations initiated by the intrepid sociologist Brad. We each had varying degrees of experience with writing to a broad public prior to BWG, and our first few entries reflected some of that. We were more text-heavy back then and didn't make use of some of the unique characteristics that make blogging a different kind of writing. Nevertheless we were met with surprising success in reaching a new potential audience. Back then, we also discussed our degree of commitment to the blog, and tips and tricks on making each post hit the right tone. Back then we tried to come up with a list of potential fellow bloggers in order to relieve Brad from posting up to 3 times a week. We learned too that if we reached a large enough audience we would actually generate revenue. This recent meeting was the first fruits of this past year's efforts (282 posts and counting).
Our main dish was a choice of either beef or scallops (and I forgot to take a shot of the latter):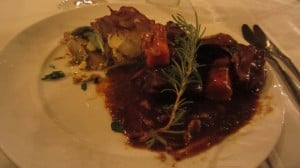 So as I was enjoying this savory meal, I recounted to myself that over the past year we were able to convince more folks to try guest posts on the blog, but after a year or so we discovered that consistency seems to make a bigger impact. Perhaps not surprisingly to some readers, our various voices and topics are distinct enough that certain audiences continually check in when we post. So at this dinner gathering, we re-upped our commitment to continue for the foreseeable future. And we'll be joined by "regular occasional" bloggers including Amy and George, as well as Becky Yang Hsu and Richard Flory. The variety of voices promises a new wealth of ideas and conversations that hopefully will continue to stimulate thinking about pressing matters of society and the self.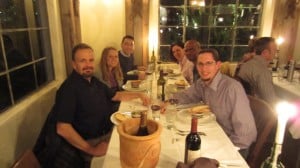 We ended the meal with this rich chocolate dessert: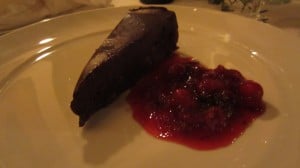 While the menu was set, Brad had the foresight to mention to Chef Christopher his new mastery goal of eliminating processed sugar from his diet. Thus his dessert was replaced with this lovely fruit-based treat: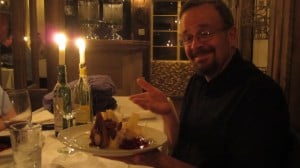 It will be very interesting to revisit Brad's posts in the future as he may share some of how his own version of mastery helped him lose an amazing 50+ pounds in the past year.
We closed with some discussion about visibility. It never fails to amaze me that the line "the internet is for porn!" made famous by the Broadway hit "Avenue Q" reflects a powerful reality for many users.
We were now dreaming of ways we could incorporate the phrase "porn" into our post titles, most of which have no bearing on that subject whatsoever. I suppose the gratuitous photos I take of our meals might constitute food porn? I'll stop while I'm ahead and conclude that while we have fun with BWG, we're seriously grateful for the opportunity to share our sociological reflections and research with an audience of lay people and professionals who hopefully have been learning along with us. We look forward to a new year of continued insights that will remain engaging and enlightening.