Calhoun Happiness Project member, Cameron Yick '2017, has launched a new student group called Yale Makes. For two hours every Saturday morning, Yale students (and professors!) are invited to Yale's Center for Engineering Innovation and Design (CEID) to design graphics, make art out of wood, or develop computer animation.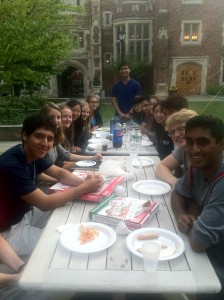 Yale Makes builds off Mihalyi Csiksgentmihalyi's ideas of flow, Bernard DeKoven's ideas of deep fun, and the Little Platoons idea we discussed at the Yale Happiness Seminar in June. Simply bringing a group of people together to brainstorm and create something is fun, promotes our own happiness and that of others, and develops group bonds. In Yale's competitive culture, this group stands out as having no winners. In fact, failing is welcome. The goals are cooperation, fun, creativity, and friendship. Neither experience nor a specific idea is required. I already have lined up two local artists to come do beginner's workshops—apparently the experts are jumping at the chance to do art and design with newbees with unconventional styles. When I was a student at Yale, I thought I wasn't talented enough to do art or design here. But now I have a second chance—my inexperience is my talent. Just imagine what we can do in a Little Platoon dedicated to design, creativity, and fun! Here is how Cameron describes Yale Makes: Robotic ducks. Tactile poetry. Calm manatees. Stylish doorstops. These are just a few of the ideas that Yale Students have talked about developing in their free time. Yale Makes is a place where playful projects can be taken seriously. Like many other skills, design isn't something that you get better at just from reading books. You have to design and be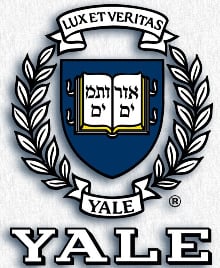 exposed to new ideas on a regular basis to develop a sense of how to balance aesthetics and function. It's much easier to be motivated when you commit to doing something weekly, and are doing it with other people. Yale Makes is a weekly opportunity to brainstorm and work with other people on projects for the fun of it. We'll also provide a learning framework for those who would like to learn about the foundational principles of design across all disciplines. Currently, Yale Makes is slated to be meeting from 10 AM-12 PM in the CEID on Saturdays. Below are a few of the skillsets that Yale Makers have strong interest and/or experience with. Graphic– Posters – Layout – Signs – Logos – Color Theory – Cartooning – Typography – Drawing/Painting Physical– Woodwork – DIY/Hacking – Sculpture – Pottery – Textiles/Clothing – Upcycling – Machining Technical– Websites- Apps (Mobile/Web) – Blogs – Animation – UI/UX – 3D Modeling and Printing – Lasercutting All members of the Yale community are welcome. If you are not a member of the Yale community but want to find out more, please let us know. For more information, contact either Margarita Mooney or Cameron Yick (our emails are listed in the Yale directory). Check back for cool photos of our fun design projects! And check out Yale Makes online!