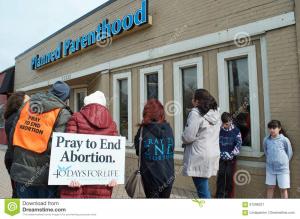 Every Tuesday morning Cindy goes to pray and 'sidewalk counsel' outside a Planned Parenthood abortion center. Each situation she encounters is different.
She was standing on the corner early one day, with a few other pray-ers around her, as a young woman came along. She was maybe 17 or 18, walking quickly with her earbuds in. She was just a few yards from the PP door so Cindy knew she didn't have much time to try to help her. "Hi, I'm Cindy. Are you scheduled for an abortion? Can I talk to you for two minutes?" The woman looked at her with a surprised and kind of confused look, took out her earbuds, and said, "What did you say?" "I'd like to try to help you." Cindy responded as she offered the woman a pamphlet. "If you'll let me. There's a lot of ways we can help you. Please give me a few minutes before you go in."
What Abortion Providers Won't Tell You
Suddenly Cindy saw tears in the young woman's eyes. She was looking at the pamphlet that said, "What Abortion Providers Won't Tell You." "I'm really scared," she said. She said she'd been praying all night, and again just then on the bus, heading to her scheduled abortion.
Her name was Amanda. She said she felt trapped. She told Cindy that she really didn't want to abort, but that she felt there was no other way. She was in an abusive relationship and her boyfriend would 'freak out' if he knew she was pregnant. There was no way he would want to have a baby together, and no way he would help support her. How could she provide for a child completely on her own, still in high school, with little family or other support around? How could she earn enough money to pay a babysitter when was working? These were the worries swirling in her head as she made plans to abort her unborn child.
Cindy walked Amanda to Cindy's parked car where they sat and chatted for a half hour. Amanda believed in God and had called out to God just before she headed to the abortion center, "God, if you can help me, if there's any solution you can bring me, please give me a sign before I have this abortion."
"I came around the corner and there you were standing there. And you had such kindness in your eyes and you spoke so compassionately, offering to help me. I knew this was the sign from God. I knew it and that's why I was crying!"
Within the hour Cindy brought Amanda to a pregnancy care center, where an ultrasound showed a baby girl of three months. The risks of abortion from miscarriage and infertility to breast cancer and severe depression were explained to her, and the practical help she needed was given. Amanda was guided through the process of getting a restraining order against her boyfriend, set up for emergency maternity housing, given pre natal pills and maternity clothes, and encouraged to consider adoption.
She hasn't decided yet if she'll raise this baby herself or place her with an adoptive family, but she has decided she's not having an abortion.
www.BraveLove.org
http://www.patheos.com/blogs/bornagaincatholic/2017/12/three-years-ago-couldve-assisted-suicide-candidate/