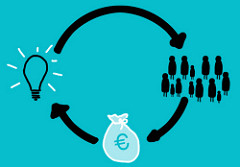 Crowdfunding has become a very common way of raising funds, online, by posting a wide range of causes and needs (and plenty of 'wants' too), that friends and complete strangers alike can respond to.
The idea is to reach beyond the immediate circle of people and donors you know. It's not uncommon for an anonymous person to be inspired by a particular appeal to donate $25, or $100, or more. What began as fundraising for generally desperate situations – money needed victims of a natural disaster, for a life saving medical procedure, or medicines for cancer or ALS patients, has now extended to every imaginable cause. I've received crowdfunding appeals for very worthwhile projects including seminary expenses, mission trips, and adoption fees.
But as crowdfunding became more well known and a more common way of raising money, less dramatic appeals started appearing. While they're not urgent requests, they're usually not morally objectionable. I've seen them for money for a guy to buy an engagement ring (!), parents looking for money for Christmas gifts for their kids, and others seeking vacation funds because they haven't had a vacation in a few years!
But then there are the ones that are morally objectionable. How about crowdfunding for a new abortion center? An Atlanta "abortion spa," as it described itself, sought money just that way. Recently a 59 year old cancer patient's daughters started a group funding effort to pay for their mother's assisted suicide, including a flight to Switzerland. Two years ago, a 23 year old named woman asked the public for $2500 through GoFundMe to pay for her abortion.
On top of that, some crowdfunding sites have removed the appeals of those that don't meet the site's politically correct policies. Those who don't support the LGBT agenda or abortion have found their page removed for "intolerance" or "discrimination." The website for GoFundMe, one of the most well known crowdfunding sites, lists "the promotion of hate, violence, harassment, discrimination, terrorism, or intolerance of any kind relating to race, ethnicity, national origin, religious affiliation, sexual orientation, sex, gender or gender identity, or serious disabilities or diseases," as reasons for removing a campaign. These days some are considered 'hateful if their faith compels them to oppose gay marriage or abortion. Keep in mind these sites are earning a percentage of ever fundraising campaign…GoFundMe collects 5% and Razoo 4.9%.
Other big crowdfunding sites such as YouCaring, Crowdrise, and Razoo have no interest in life affirming values. Not long ago, a NC pro life crisis pregnancy center set up an account on YouCaring to raise funds for a new mobile ultrasound unit. Merely wanting to provide the truth of the humanity of the unborn child to pregnant moms, the campaign was quickly taken down, because the site believed that the cause could potentially be "divisive." So much for tolerance.
FundingMorality.com is a new crowdfunding sites, created in response to the big liberal leaning ones that claim to be for tolerance, but won't tolerate pro life or other Judeo-Christian tenants. Founder Arthur Goldberg says he is "looking to recreate a political moral center within our country to provide resources to help bring our society back to our Judeo-Christian values," and hopes fundingmorality.com will become the "go-to site for social conservatives." He ran into problems when he was faced with litigation for his work promoting reparative therapy for unwanted same-sex attractions. "Recognizing the enormity of penalties and fees that I faced and typically need to be paid by others in similar situations, I felt called by God to help people facing such a conundrum," he said.
Two other newer sites for faith-based causes are FaithLauncher.com and WonderWe. Both support Christian values and charge no fees. CatholicX Crowdfunding supports Catholic appeals at 2% (0 for disaster relief appeals). Why support sites that mock our values when we don't have to?
Photo by <a href="http://foter.com/author/d01831″>Rocío Lara</a> on <a href="http://foter.com/re/a879ea">Foter.com</a> / <a href="http://creativecommons.org/licenses/by-sa/2.0/">CC BY-SA</a>
http://www.patheos.com/blogs/bornagaincatholic/2017/12/best-new-years-resolutions-spiritual-ones/