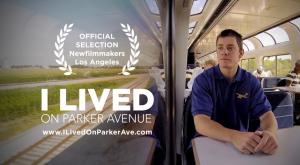 David Scotton is 18 and on a journey to Indiana to meet the birth parents he's never known.  His inspiring true story is featured in I Lived on Parker Avenue, a new film that looks at adoption from the perspective of all involved.
Adopted at birth by loving parents, David isn't sure what to expect but he's felt for a long time that he must meet the mother and father he was born to.
I Lived on Parker Avenue is a riveting documentary film about a birth mother's anguish over choosing what's best, the joy of a couple starting a family, and young man's search for where his life began.
The short film is set to be released online on March 8th, with DVDs available then too.
His birth mother, Melissa, and reserved birth father, Brian, anxiously wait for him.  They're worried that David will think negatively about them for for having considered abortion before he was born.  In fact, he was only moments from being aborted when his life was spared.
But David is focused on gratitude.  "The most important thing I can do in my entire lifetime is thank them for that decision."
With more focus on adoption among pro life advocates, this film is a beautiful look at the lifesaving choice that allows all involved to go on with their life knowing they made a heroic decision when faced with an  unplanned pregnancy.
Interviewed on Fox and Friends, Melissa spoke about what went through her mind while waiting for the abortionist.
"Multiple things happened.  As I was on the table, the protesting outside had a lot of influence on my decision.  And I remember coming in and I heard lots of different things being said ] and one thing that stuck out in particular was 'Your child has ten fingers and ten toes.'  And I'm lying on that table in a gown and as the doctor comes in he slides over on his chair and he's within, like, seconds of touching me and … "I can't do this.  I just cannot do this."
Melissa quickly dressed and ran out of the clinic.
"David was seconds, literally, from not being here," says Melissa.  Putting her newborn son up for adoption was "bittersweet, because I wanted him."
David, along with his adoptive and birth parents, has a message for the entire planet.
"We want the rest of the world to see what the adoption option can do.  If it was not for the adoption option, I would not be here today."
David, now 24,  makes it clear:  "We are doing this because we want to save lives."
Partial funding for this compelling film came from www.BraveLove.org.
View the film trailer here:  https://www.youtube.com/watch?v=zJ2zkIuB5Fk&utm_content=98966eb6b1a4d858b9857bc1314d231b&utm_campaign=%22I+Lived+on+Parker+Ave+film+screening%22&utm_source=Robly.com&utm_medium=email
photos: www.ILivedonParkerAvenue.com
http://www.patheos.com/blogs/bornagaincatholic/2018/01/birth-mothers-share-heroic-adoption-stories/