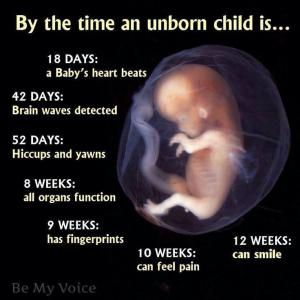 The unborn baby's heart is beating by about the eighteenth day of pregnancy.  Iowa Gov. Kim Reynolds has just signed a historic bill that will ban aborting babies with a heartbeat.  This is now the strongest protection for preborn children in the U.S.
This new law should be the rule, not the exception.  North Dakota and Arkansas passed similar heartbeat bills in previous years, but unfortunately, those bills were blocked by the courts.
Governor Reynolds describes herself as "100 percent pro-life."   "I'm pro-life. I'm proud to be pro-life. I've made that very clear," Reynolds  told the Chicago Tribune.
Live Action President Lila Rose praised the passage of the bill, noting that the measure is in line with science and reason: "This law acknowledges the scientific fact that the pro-abortion movement tries desperately to ignore: This is a unique, individual human life in the womb, not a 'clump of cells,' Rose said, 'and just three weeks after fertilization, the child's little heart is already beating. It's time for society and our laws to acknowledge that there are two human beings in a pregnancy, and both deserve protection."
Earlier this week, the Iowa House passed the measure in a vote of 51-46 and the Senate followed just hours later in the early morning on May 2, 2018, with a vote of 27-19.  Reynolds' signature came shortly after state Planned Parenthood affiliates and the left-wing American Civil Liberties Union (ACLU) threatened a lawsuit to block the law's enforcement, CBS News said. After the legislature passed the bill on Tuesday, Reynolds said she would review its details first.  The bill, SF 359, is expected to stop most abortions, starting between 6-8 weeks. It allows exceptions for babies conceived in rape if reported within 45 days, babies conceived in incest if the incest is reported within 140 days, or fetal abnormalities deemed "incompatible with life," and for physical threats to the mother's life.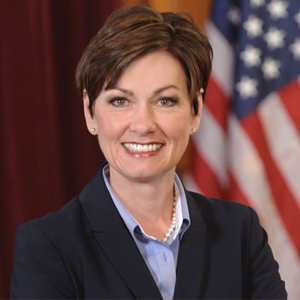 Governor Kim Reynolds of Iowa
"We couldn't be more pleased," said Iowans for Life head Maggie DeWitte. "[Reynolds] is following through on her pledge to the people of Iowa that she is 100 percent pro-life."
Current judicial precedent says that abortion cannot be banned prior to fetal viability. This has led some pro-life activists to oppose heartbeat legislation, believing that Roe v. Wade should not be directly challenged until the Supreme Court has a clear pro-life majority that would strike it down rather than reaffirm it.  However, supporters of the heartbeat bill such as GOP state Sen. Rick Bertrand say they're counting on such a fight and plan to win it.
"We created an opportunity to take a run at Roe v. Wade – 100 percent," he said.
Steve King, R-IA, sponsor of federal heartbeat legislation, says that by the time such a law makes its way through the courts, it's very likely that President Trump will have appointed another Supreme Court justice, who is expected to rule on the side of life.
Tellingly, Planned Parenthood tweeted that the bill protecting babies with beating hearts was "GROSS."  "See you in court," they threatened.
Iowa is now the safest state in the nation for preborn children.