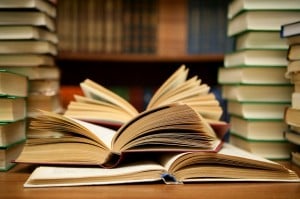 As 2016 approaches, I've been inspired by many friends who create a reading list each year. I've never done this before, but feel the need to be more intentional about my reading, mostly because I say "squirrel!" way too much. So this reading list is partially for self-enrichment, but equally to continue to improve on my life-discipline in general.
Looking back on my favorite reads of 2015, I realized that I didn't read any classics or any works of fiction. I usually like to work in a sports biography somewhere, too. This lack of diversity was largely due to the willy-nilly nature of my reading.
Much of my 2016 plan will include taking advantage of audiobooks since I'm in the car around 2 hours/day, which gives me plenty of down time that I've been terrible at utilizing. I will also spend more time than usual on planes next year with my new work schedule.
To start, I'm planning to use Denny Burk's excellent plan for reading the whole Bible in 2016. I've never successfully completed this task, and I hope this plan will help me get there. I'll be doing so with an audible Bible, listening each day as I get ready in the morning and/or drive to work.
As I'm working on a thesis right now, much of my reading is wrapped up in study. This mostly includes dense academic texts like books on the doctrine of the Trinity, commentaries on Revelation, and biblical theology/hermeneutics books that follow a similar strategy to that of my thesis. Research is ongoing and takes up much of my free reading time late at night.
My big, lofty goal for 2016 is to read Karl Barth's Church Dogmatics in its entirety, which is around 8,000 pages (excluding an index volume and reference pages in each volume). It's a daunting task–I've never met a person who's read it all in a lifetime, much less a year–but it only comes out to about 40 pages/day, 5 days a week. I'll read this most mornings. If you see me banging my head against a wall or yelling at people on Twitter early in the morning, blame Barth.
On my commutes home from work, I've got a plan for an audiobook mix of foundational theological works and fiction. I've set a goal to complete both Calvin's Institutes and Wesley's sermon collection, Pilgrim's Progress, and three fiction books I've never read–Gilead by Marilynne Robinson, The Sparrow by Mary Doria Russell, and Peace Like a River by Lief Enger.
I think ESPN's 30 for 30 series will have to suffice my sports bio interest this time around.
Click here to see the spreadsheet I'm using, if you're interested in how I've mapped this out.