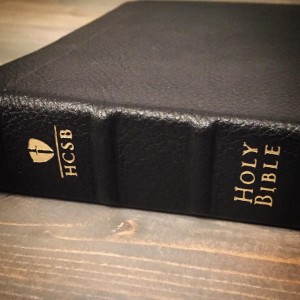 Superhero movies and the latest iteration of Star Wars show the power of a good story. Grown men and small children alike dress up in costumes, stand in line for hours, and spend $62 on a bucket of popcorn just to watch larger-than-life heroes do the unthinkable. People are riveted by a good story that seems otherworldly, and they're willing to scrounge up the money and time to invest if they're convinced they'll enjoy themselves.
Through my work with the Holman Christian Standard Bible, I recently came across research from the Barna Group stating that people don't read the Bible for a few reasons–primarily because they don't have enough time or struggle to relate to the language. The stats showed that 88% of American households own a Bible, but only 37% of people read it once a week or more. No doubt, their frustration with trying to understand words, phrases, and concepts in Scripture is a reasonable frustration; but as most preachers have already told their congregations–people have plenty of time to read, but they simply don't want to make the time.
Why Don't We Read the Bible?
So let's assume that's true, that we don't want to make the time to read our Bibles. Why don't we? I mean, the God of the Universe has given mankind his Word. He could've tapped out when we disobeyed him in the Garden, but he didn't. He didn't let us hide from him–he went looking for us and spoke to us (Gen. 3). Isn't that enough?
No. Frankly, it isn't enough for most of us. Certainly not because we don't revere or even worship God, and not because we don't think the Bible is valuable. We don't read it regularly because we don't understand how Scripture works. We think God left a book behind thousands of years ago as a trail of breadcrumbs to help us find him, but we don't give it much more credence than that. We treat the Bible like a wise old man who left us inspirational stories from long ago, but is a little out of touch with the basic struggles of our daily lives.
In the end, our struggle with Bible reading is often not because of time or effort or ability, but because we don't expect to meet God there. We know at some level that God spoke in his Word, but we don't fully understand that God's still speaks to us through his Word. In short, we don't know what happens to us when we read it.
What Happens to Us When We Read the Bible?
We shouldn't merely open the Bible and read it like we do any other book. We shouldn't set aside time to read the Bible because we want to be entertained in the same way a movie with entertain us, either. Instead, we should consider the basic function of Scripture. Paul tells Timothy:
"All Scripture is inspired by God and is profitable for teaching, for rebuking, for correcting, for training in righteousness, so that the man of God may be complete, equipped for every good work." (2 Tim. 3:16-17, HCSB)
Notice the verbs: Scripture is inspired by God and is profitable. Pair this with the powerful phrase in Hebrews 4:12-13:
"For the word of God is living and effective and sharper than any double-edged sword, penetrating as far as the separation of soul and spirit, joints and marrow. It is able to judge the ideas and thoughts of the heart. No creature is hidden from Him, but all things are naked and exposed to the eyes of Him to whom we must give an account."
Again, notice: the word of God is living and is effective and is able to judge the ideas and thoughts of the heart. If Jesus is the Word of God (John 1:1) and he ain't dead, then the power of God's Word on the pages of Scripture ain't dead either.
Through the illumination of the Holy Spirit, our spiritual eyes are opened to the supernatural, life-giving truth of God's living Word. When we open its pages, the Bible speaks to us and calls on us to "taste and see that the Lord is good" (Ps. 34:8). The Bible, in a very real sense, lets us into the mind of God:
"As it is written:

What eye did not see and ear did not hear,
and what never entered the human mind—
God prepared this for those who love Him.

Now God has revealed these things to us by the Spirit, for the Spirit searches everything, even the depths of God. For who among men knows the thoughts of a man except the spirit of the man that is in him? In the same way, no one knows the thoughts of God except the Spirit of God. Now we have not received the spirit of the world, but the Spirit who comes from God, so that we may understand what has been freely given to us by God. We also speak these things, not in words taught by human wisdom, but in those taught by the Spirit, explaining spiritual things to spiritual people." (1 Cor. 2:9-13, HCSB)
Want to know what God thinks? Not just what he thought, but what he thinks? Open your Bible. The Spirit lives within you to help you understand God's will and character, to help you taste and see something fresh and new that you've never seen before. A passage you read five years ago might speak to you differently today, because the living God speaks to you through his living Word, right here and right now.
Star Wars is great. Superhero movies are spellbinding. But they're all copies; they're lesser stories of a greater Story. And God's Word will captivate us like those stories only when we realize that God meets with us on its pages.
This isn't merely a post about those of you out there. This is for me, too. I need God to speak to me, and I don't always believe that he does. But be sure, my friend: the same Word that spoke creation into existence and filled Adam's lungs with oxygen (Gen. 1), is the same Word that creates life inside of you.