Many of you read, commented, and shared the post I did about "The 8%," referring to the percentage of babies diagnosed with Down syndrome who aren't aborted.  I wrote:
In the United States, would you believe ninety-two percent of babies diagnosed with Down syndrome are aborted before they get a chance to take a breath? When I hear this statistic, it makes me want to burst into tears.  I can't imagine a world without Trig — he is the best brother!  (Okay, you're not too bad either, Track!)

It's crazy how in love with Trig we all are. When Tripp is acting up — which he does often! — I sometimes joke with my mom.

"Hey, want to trade kids?" I laugh.

Willow and I always talk about how lovable Trig is, and how we'd take him over any so-called "normal" kid anyday! He's way cooler than people with fewer chromosomes. I'd have a Down syndrome baby in a heartbeat, and I know anyone else would if they saw any sort of glimpse of how perfect my little brother is.
Thank you for sharing your stories in the comments section and for sharing that post with your friends. However, my website administrator got an e-mail from another on the SixSeeds Faith and Family Channel, author Amy Julia Becker – the mother of a daughter with Down syndrome.  I'm sorry to say I think I unknowingly passed on incorrect information.  She told me that the 8% number is not exactly accurate.  She writes:
I just read Bristol's post about babies who are born with DS being one of the 8%. I love the poem she includes, and I think her point is an important one. Still, I've learned recently that it's an inaccurate number. It's widely cited by many people, but it's based on a single study from a single hospital in the 1980's. Overall, it seems that about 70% of babies prenatally diagnosed with DS are aborted, and that the abortion rates vary greatly from region to region across the US. Moreover, lots of women don't seek prenatal diagnosis, whether out of ignorance or because they don't want to risk an amnio or because they don't think the information is necessary. So out of all babies conceived with DS, 50% are actually born. Still a terrible reality that 50% are aborted, but a much better situation than the 8% number implies.

I think it's important to get the accurate numbers out there so that women who are facing decisions about prenatal testing and abortion recognize that they are not alone if they decide to forgo the testing and/or keep the baby with DS. There are thousands of other women making the same decision who want to support them and love their babies.
Thanks, Amy, for the correction. Yes, moms who are facing this challenge, know you're not alone!
And some of you might enjoy Amy's book called, "A Good and Perfect Gift:"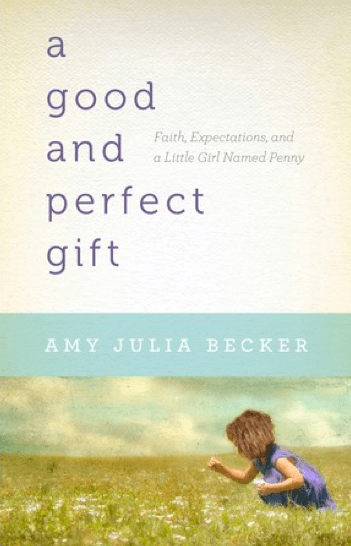 A GOOD AND PERFECT GIFT: Faith, Expectations and a Little Girl Named Penny (Bethany House) is a spiritual memoir that chronicles Amy Julia Becker's journey through her daughter Penny's first years of life. Top of her class at Princeton, Amy Julia Becker always imagined that her children would turn out just like her. So when her daughter Penny entered the world with Down syndrome, Becker had to rethink everything.
In fact, another Patheos blog is giving away this book.  Click here for Anna Quinn's complete review and details on how to win your own copy!