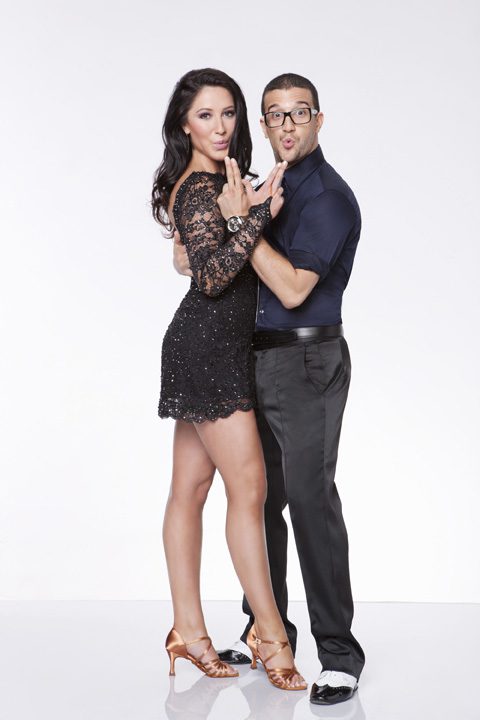 Dancing With the Stars recently released our new publicity photos! This one, of me and my partner Mark Ballas, is my favorite!
I guess I should be used to this by now, but – of course – even this publicity photo has caused controversy with an article called, "Bristol Palin's 'Dancing With the Stars' Gun Pose Shocks after Theater Massacre:"
Her photograph is disturbing and gives a moment of disbelief as she emulates her fingers into a gun pose and appears to be blowing on it with her professional dance partner Mark Ballas doing the same. Obviously reflecting the statement of the "smoking gun," it's unbelievable it was released to the public… This gun pose has been used in movies for decades and rappers use it all the time, but times have changed. Only recently a gunman barged into a theater in Aurora, Colorado and killed 12 people and injured 58 others. Since the July 20th shooting, the public has needed a break from the intensity of imaginary gun images as the real ones are all too harsh.
Seriously?
This had nothing to do the Colorado shootings, and it's really offensive that the lame-stream media is trying to link a dancing competition photo to a horrible shooting.
This is just another part of the effort to make guns evil, and I wasn't even holding a gun!
All across America citizens use their guns to protect themselves. If you don't think a gun can even the odds, and help even the helpless become more powerful than their attackers, check out this video:
Do you want to be a part of my DWTS journey? Then, e-mail me so I can add you to my mailing list. (My address is BristolsBlog @ gmail.com, without the space! Make sure to use the subject line: DWTS.) I'd love to give you the latest up-to-the-minute reports about the show!