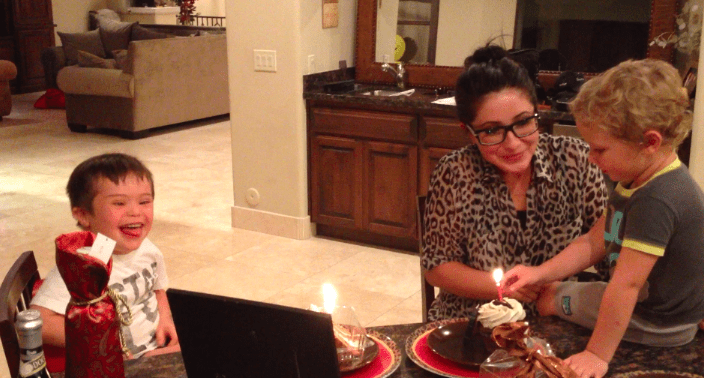 Thank you all for joining me on this amazing adventure.  I'm so thankful that our last dance – to rock 'n' roll – earned our highest judges score this season.  The judges were actually kind to me about our choreography, and I had a blast!
It's hard to know exactly how to process this whole thing.  On one hand, I am so sad to be voted off.  I enjoyed having this opportunity to be on the show.  I had a great time, I got to meet a lot of new people, and I loved to be able to dance again!
But on the other hand, I now get more time to spend with Tripp!! (Thanks, Mom, Dad, Willow, Molly and Karen for keeping him for me so many hours!) Tripp and I are very excited to get home to the snow!! I even got to spend the later part of my birthday with Tripp and my some of my family! I came home from traveling, to a perfectly decorated house, that Tripp had done all by himself!!
Also, my dad let Tripp pick out what he wanted for a surprise party for me that my baby boy had planned. He picked out cheetah print plates, cups, napkins and streamers, yellow smiley face balloons, birthday hats, and caramel apples! He definitely knows his mama! He even got a piñata, and filled it with bubble gum, hand sanitizer, chapstick, bouncey balls, and fancy chocolate! I have never seen Tripp so excited and proud to have put it all together, and it was one of those "mom moments" that I will truly never forget! (I'll post pictures in a bit!!) I'm so grateful to have such an amazing little boy, he is such a little blessing. I'm glad I'll be able to have even more time with my son before he has to go to preschool!
This "All Stars" was a different experience than the first time around. The competition was insane! It was a completely different show than the first time I was on! The stage, costumes, and the cast were a lot more extravagant!! It made me even more humbled and thankful to be have been asked to be there. I felt more confident, more excited about the dances, and even more thankful to the people who showed such amazing support for me.
In the post DWTS interviews, the reporters always ask "what's next?"  Honestly, am not 100% sure. I know God has much more in store for not only Tripp and me, but my whole family! I'm excited to spend the holidays with Tripp, and the rest of my family in Alaska!!! Oh, and in a couple of weeks, look for us at the DWTS All Stars Finale.
Thank you to all my supporters, especially my friends and family and all of you who pulled "all nighters" voting for me!  I appreciate you all!
I wouldn't have gotten past week one without you guys!!! Thank you again!!!
Also, read more on the Faith and Family Channel, follow me on Facebook and this blog on Twitter!