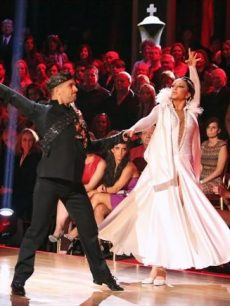 My fourth Access Hollywood blog relates to last week's dance — and our argument. Thank you for voting Mark and me through and helping us survive the double elimination!! Here's the first part:
I wish I didn't have to start this blog about the fight between Mark and me, but I know it was really a big part of our show package last week.

As you know, Mark and I have been friends and dance partners for a long time, and we've never had much conflict at all. Ninety-nine percent of the time, we get along well really well – like he's family. But, just like siblings, we got into a fight. With all the emotions of this sometimes stressful competition, things boiled over and, well, we got into it.
Read it all here!
Do you want to be a part of my DWTS journey? Then, e-mail me so I can add you to my mailing list. (My address is BristolsBlog @ gmail.com, without the space! Make sure to use the subject line: DWTS.) I'd love to give you the latest up-to-the-minute reports about the show!
Also, read more on the Faith and Family Channel, follow me on Facebook and this blog on Twitter!