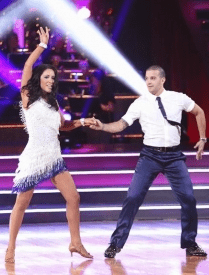 Is up! Read it here:
Okay, so I survived this week — I can't tell you how much fun this experience is, and how different it is this time around!!

My main initial goal was making it through the first week, and I met it! What an honor to get "Most Improved" from the judges.

I think people are surprised to see that, over the past two years, I've actually grown up. The last time people saw me was when I was a teenager. Now, hopefully, I've got a little more confidence – in life and on the dance floor.
Read it all here!
Do you want to be a part of my DWTS journey? Then, e-mail me so I can add you to my mailing list. (My address is BristolsBlog @ gmail.com, without the space! Make sure to use the subject line: DWTS.) I'd love to give you the latest up-to-the-minute reports about the show!
Also, read more on the Faith and Family Channel, follow me on Facebook and this blog on Twitter!