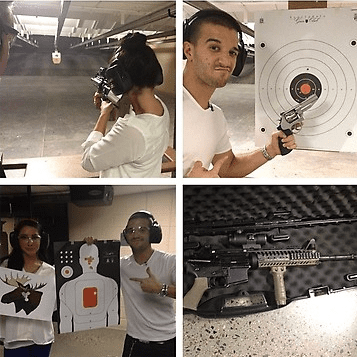 Last week, to get in the mood for our Dancing with the Stars quick step to "Redneck Woman," Mark and I went to a shooting range.
Twitchy reports on some of the Twitter backlash against me, because I shot a paper target imprinted with the image of the moose. Not a moose, mind you. But a moose outline.
Guess what, paper moose lovers? It gets worse than that. A few weeks ago, my dad took Willow and me on a moose hunt. In case you who don't know where food comes from, this is what keeps our freezers full at home.
If who've never been to a range, don't knock what you haven't tried. When you do it right, target shooting is safe and a whole lot of fun.
As for those whose hearts are full of compassion for paper, I can assure you that the targets don't feel a thing.
See you at the range!
Do you want to be a part of my DWTS journey? Then, e-mail me so I can add you to my mailing list. (My address is BristolsBlog @ gmail.com, without the space! Make sure to use the subject line: DWTS.) I'd love to give you the latest up-to-the-minute reports about the show!
Also, read more on the Faith and Family Channel, follow me on Facebook and this blog on Twitter!