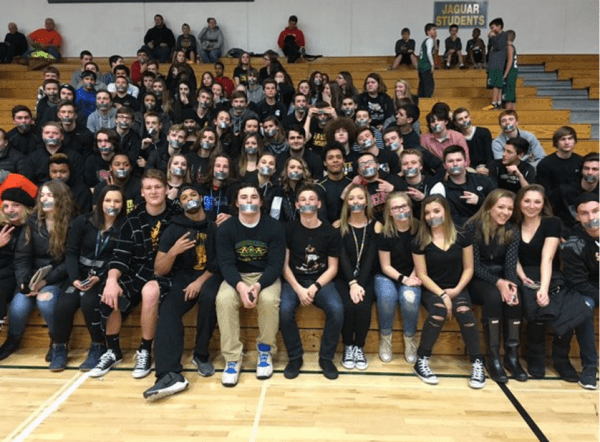 This happened. A new policy enacted by the Wisconsin Interscholastic Athletic Association stops students from chanting "U-S-A," "Scoreboard," and "Air Ball."

"Feelings" have once again trumped common sense. Katherine Timpf, writing for the National Review, shares more details:
Among the other cheers considered "sportsmanship infractions" according to the WIAA's guide: "Overrated," "You can't do that," and the popular "Na-na-na-na . . . hey hey hey, goodbye" song. Unsurprisingly, the Wisconsin State Journal reports that there has been some backlash over the policy. One tweet shows a photo of students with duct tape over their mouths and the caption "Is this approved?" But the WIAA is not backing down. Rather, it took to Twitter on Wednesday to remind everyone that it was not enacting any new policies, but simply reminding schools of the existing ones. 
WIAA shouldn't have enacted the policy in the first place (is free speech still a thing?).
WIAA has offered no indication that it intends to change the rules, but state representative Dale Kooyenga — a Republican and a former basketball player in the system — wrote the organization a letter encouraging it to do so. The whole letter is pretty refreshingly logical, but this is probably my favorite line: "If you think a high school student section is rough, try playing basketball on a playground on the south side of Chicago." Zing.
As Dale Kooyenga points out, there are much bigger fish to fry than words used in a high school chant. WIAA's time and resources could be much better spent. Or are they really just that bored?
Image via Twitter.
Buy my Mom's new devotional, Sweet Freedom, in bookstores everywhere!
Read more on the Patheos Faith and Family Channel, fan me on Facebook, follow me on Instagram and follow this blog on Twitter!