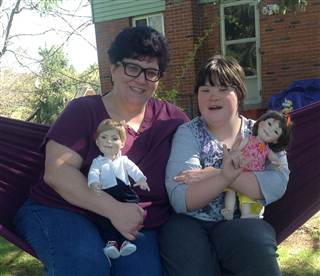 This is fantastic. A mom in Pennsylvania, Connie Feda, makes some lovely and loving dolls for kids with Downs Syndrome. Here's the story about the inspiration that came from her daughter from Today:
Born with Down syndrome, Hannah wanted a toy companion with almond-shaped eyes like hers and a zipper-like scar on her chest, just like the one she has after an operation to mend three holes in her heart.

"There's no doll that looks like me and none of them have surgery," she complained to her mother.

So Connie Feda searched for a doll with Down syndrome features, only to discover she didn't like what she found.

"I think Hannah is a beautiful little thing," Feda, a mother of six, told TODAY Moms.

"I see a sparkle in her eye and I see a lot of imp, and I didn't see that in those dolls. I saw a very detailed, stereotypical perhaps, medical diagnosis stamped in plastic."

A business idea was born: why not create a whole new set of dolls for kids just like Hannah?
These dolls are precious friends for precious children. And the sweetest thing? They are even available with the scar from the heart surgery that so many DS kids need to have.  Check out the whole story here. 
Read more on the Faith and Family Channel, fan me on Facebook and follow this blog on Twitter!