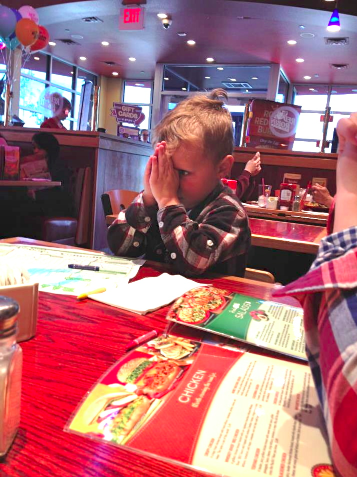 How many of you pray before you eat, even if you're out in public?
I always think it's touching to see people bow their heads before they dig in.  (Check out how cute Tripp is, above!)
One restaurant in North Carolina — Mary's Gourmet Diner — acknowledged customers who prayed before meals by offering a 15% discount.
The owner, Mary Haglund, had quietly given the discounts for year.  The servers would give the discounts if they saw people praying and it wasn't a big deal. On the receipt, the percentage off was called a "prayer discounts" but they weren't limited to Christians.  Anyone who took a moment of silence or to reflect would get the discount.
What was a quiet policy went national when some diners from out of town noticed the discount on their receipt.  Pleasantly surprised, they put their receipt on Facebook.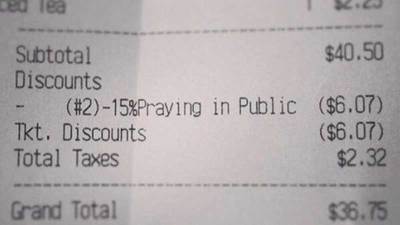 It went viral.
It didn't take log for the Freedom from Religion Foundation (FFRF) to move in.  If Mary's Gourmet Diner didn't stop offering the discount, they'd sue.
Fox reports:
"It has been a real eye-opening experience," Haglund said. "People who have never been here and don't know me say anything they want. It is a little creepy. People have called and said really mean and hateful things that don't even know me."
Thursday, the restaurant decided to change their police to avoid litigation – and potentially years of expensive legal fees.  They put up a sign explaining the policy change, apologizing for "any offense this discount has incurred."
"I just want to make good food and be with happy people," she explained.
What is this nation coming to?
Read more on the Faith and Family Channel, fan me on Facebook and follow this blog on Twitter!