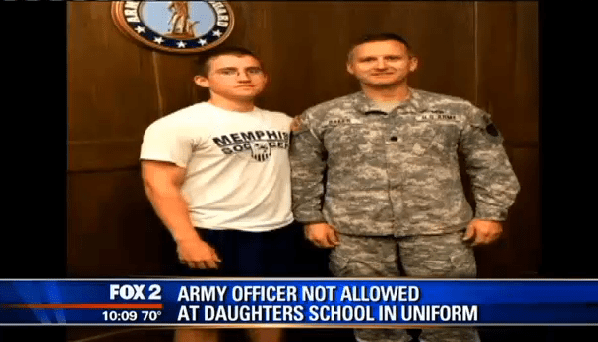 I literally cannot believe this!!
ROCHESTER, Mich. (WJBK) –Lieutenant Colonel Sherwood Baker says he is just a father who was trying to help his daughter find her way at her new high school.

Sherwood, who has served in the Army for 24 years, was told by Rochester Adams High School security that if he wanted to get into the school with his daughter he was going to have to go home and change his clothes. 

Baker's wife Rachel Ferhadson says, "Before he was allowed in, the security guard stopped him and said sorry you're not allowed in the school. Security told him men and women in uniform weren't allowed because it may offend another student."
This didn't last long.
Apparently, the Rochester Schools superintendent is a veteran himself.  Thankfully, he took care of the problem and apologized to the family.
What a ridiculous way to treat the people who defend this nation!  Thank you for your service, Lieutenant Colonel Baker.