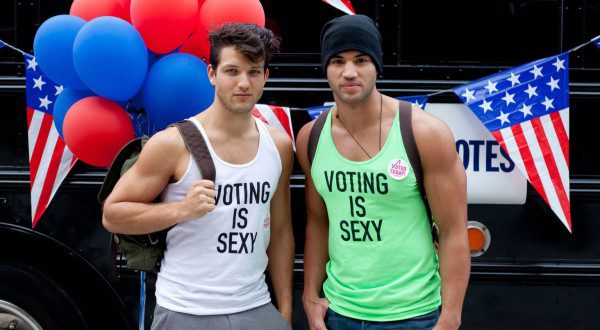 Nice try, Cosmo.
Cosmopolitan magazine had a brilliant idea this election — invite college girls to a party bus with some hot guys, drive them to the polls, and they'll vote liberal!
Anyone else think that's a little insulting?
These girls did. So they launched their own twitter campaign using #proudconservatives and posted pictures with signs that said:
We are students, not consumers.

No Cosmo, I don't want a shirtless model. I want LIBERTY!

I don't need a party bus to vote.
What an awesome response! They weren't even impressed by the free "Voting is sexy" t-shirts.
News flash: Women care about issues.
Diana Stancy from Elon University, who helped organize the campaign, called the party bus "exploitative," "degrading and disgraceful."
This was not a plain old "get out the vote" campaign.
Cosmo
endorsed Democrat Kay Hagan in the NC Senate race. Funny enough, the magazine ran the party bus ploy after calling a campaign ad by the Republican candidate "sexist." Umm… and this isn't??
All that, and their candidate still lost!
Seriously.
This is ridiculous, and I cannot stand the word "feminist."
If conservatives did this, then they'd be shamed.
But liberals once again show how hypocritical and biased they are.
Read more on the Patheos Faith and Family Channel, fan me on Facebook and follow this blog on Twitter!