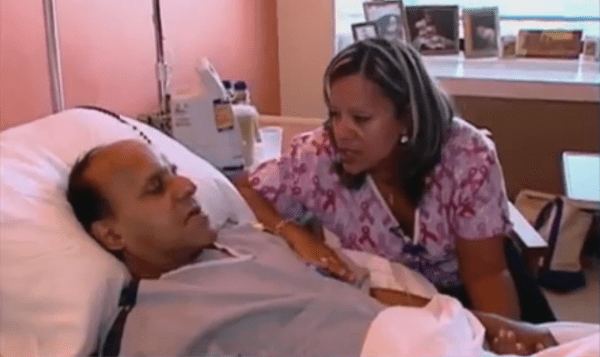 Do you believe in miracles? There's no way this story was a coincidence!
Wanda Rodriguez's dad, Victor Peraza, had walked out on her, her mother and sister just a few weeks after Wanda was born. She hadn't seen or talked to him in 41 years. But something brought her father to the same floor on the same hospital where Wanda now works.
This news story calls it a "twist of fate," but we know what it really was – the hand of God.
When Wanda heard his name, she couldn't believe her ears. She looked into her patient's eyes and they both knew they had been reunited after 41 years.
They got a second chance at a relationship. Victor was able to give explanations, and Wanda was able to offer forgiveness. He met the grandchildren he never knew had been born, and they made precious memories together.
But sadly, they don't have much time. Victor came to the hospital because he is in the last stages of battling cancer. His life will end soon, but they are making the most they can of the time they have.
Wanda says, "I forgive him because I've wanted to meet him all these years. I don't know how long he has left." And her decision to forgive has been powerful in her father's life. Victor says, "I want to jump for joy for her presence, that she accepts me."
It makes you think, doesn't it? Don't give up on an important relationship for the wrong reasons – we don't always get these chances to make things right.
Read more on the Patheos Faith and Family Channel, fan me on Facebook and follow this blog on Twitter!