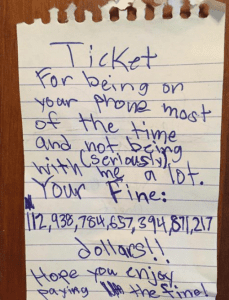 Now that we all have the world at our fingertips with our smartphones and laptops, it is really easy to live our lives glued to our screens, instead of investing in the lives of those around us- especially our children.
One son had a clever way to remind his mom about what is most important!
Parents sometimes need a bit of a break from their kids but one mom who dared speak on the phone in front of her little boy is paying the price.

In fact, she'll be paying the price forever as her son has given her a $113 quillion penalty.

And, as if that wasn't enough, he also gave a her a stern, handwritten note.

The boy wrote: "Ticket for being on your phone most the time and not being with me a lot.

"Your fine: 112,938,784,657,394, 871,217 dollars!! Hope you enjoy paying the fine!"

The boy's dad posted the note onto picture sharing site Imgur, writing: "Wife got served a ticket by my son."
I love this.  Sometimes we all need a reminder of what is really important!
This Christmas season, let's all try to put away our screens and spend quality time with our kiddos.  I know I have never regretted the time I put everything else aside and just spent time with my precious boy!  Whether its spending time in the great outdoors, having a family game night, baking Christmas cookies, or serving together as a family, let's commit to making new memories with our children this December!
(Photo: Imgur)
Buy my Mom's new devotional, Sweet Freedom, in bookstores everywhere!
Read more on the Patheos Faith and Family Channel, fan me on Facebook, follow me on Instagram and follow this blog on Twitter!