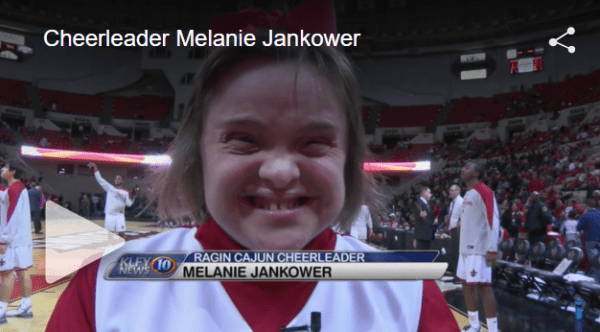 The University of Louisiana recently helped a beautiful , young cheerleader accomplish a life long goal. 

KLFY News shares the heart-warming story:
This basketball season you will see smiling facing on the sidelines cheering for the cajuns… But, none light up the arena more-than one 24 year old on the squad. News Ten Sports Lydia Magallanes introduces us to the heart and soul of the Cajun Cheerleaders… 24 year old Melanie Jankowers dreams of becoming a Ragin Cajun Cheerleader came true this Basketball season.

The squad welcomed her with open arms as part of the "learning is for everyone" program at the University of Louisiana at Lafayette. The life program provides academic and social opportunities at the college level for young adults with special needs. Graduate assistant coach Courtney Begnaud says Melanie is always smiling. "No matter how the the game is going, no matter how tired she is, she always has that big Ragin Cajun smile…she definitely has a lot of life and spirit that she's brought to us"
I am so impressed by Melanie, the coaching staff, and the University of Louisiana. I wish more schools offered hands-on learning programs for students with disabilities. They bring to joy, not only to those participating, but to those watching and engaging as well.
Trig has the same ability to bring a smile to everyone's face, no matter what his day or theirs has been like. I can't wait to see God's plan for his life unfold. It's stories like this that make my heart overflow with hope and joy. 
Watch the full story below:
Photo Credit: Video frame from
KLFY
Buy my Mom's new devotional, Sweet Freedom, in bookstores everywhere!
Read more on the Patheos Faith and Family Channel, fan me on Facebook, follow me on Instagram and follow this blog onTwitter!