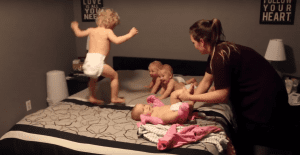 When a video goes viral it is usually of someone doing or saying something foolish, but I love that over 45 MILLION people have seen this video of a mother of four babies under the age of two rocking at her job!
See for yourself:
Being a mom is hard work- let alone keeping up with 4 little ones at once!
All the wrangling and changing and feeding and rocking doesn't always go noticed, but take it from me, it is so worth it. There is nothing more rewarding than being a mother, even if it can be a pretty tough job sometimes.
Hang in there, all you super moms!
Buy my Mom's new devotional, Sweet Freedom, in bookstores everywhere!
Read more on the Patheos Faith and Family Channel, fan me on Facebook, follow me on Instagram and follow this blog on Twitter!