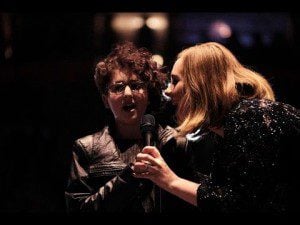 Twelve-year-old Emily Tammam had a dream – to sing on stage with her favorite singer, Adele.  But bigger than that, Emily had a dream to show children with disabilities that their limitations do not define them.
And so when Emily, who has autism, ADHD and Ehlers-Danlos syndrome, received tickets to an Adele concert in Manchester, England, she made a sign that read "It's my dream to sing with Adele."
Adele took notice of the sign during the concert, and what the pop star did next is incredible.  Watch for yourself:
Emily's dad told the local news that, "Emily said she wants to show people that have disabilities or mental issues they can still do mainstream things like singing they should not be stopped from doing them."
What an amazing kiddo!  I love that she so bravely sang her heart out in front of an arena full of people!
And I love Adele!  She is one of the biggest stars in the world right now, but she seems to be totally grounded and really understand what is most important in life.  (And I think it is pretty amazing that Adele recently thanked my mom for her success.)
Buy my Mom's new devotional, Sweet Freedom, in bookstores everywhere!
Read more on the Patheos Faith and Family Channel, fan me on Facebook, follow me on Instagram and follow this blog on Twitter!