I saw a meme on The Daily Gouge that was hilarious. As Hillary Clinton gets more embroiled in her lies about the email scandal, her inadequate response to the Benghazi tragedy, and her defenseless cover up of Bill's sexual misconduct, the meme was great: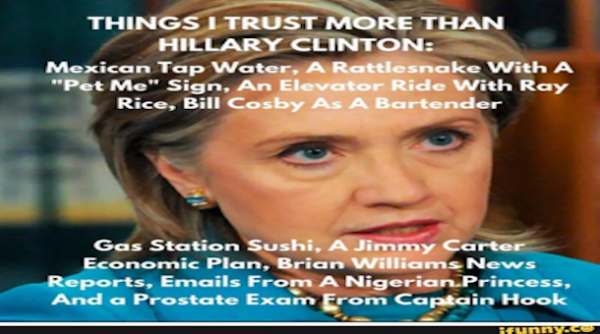 If you can't read it here's the list:
1. Mexican tap water
2. A rattlesnake with a "pet me" sign
3. An elevator ride with Ray Rice
4. Bill Cosby as a bartender
5. Gas station sushi
6. A Jimmy Carter economic plan
7. Brian Williams news reports
8. Emails from a Nigerian princess
9. a Prostate exam from Captain Hook
Buy my Mom's new devotional, Sweet Freedom, in bookstores everywhere!
Read more on the Patheos Faith and Family Channel, fan me on Facebook, follow me on Instagram and follow this blog on Twitter!