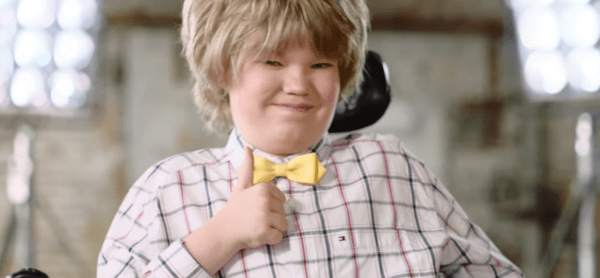 How heartbreaking would it be to be the mother of a child with a disability who has to tell your child that they can't wear cool clothes like all the other kids at school because of their physical limitations? This was the reality of mother Mindy Scheier. Mindy had to tell her son Oliver that he couldn't wear jeans to school like everyone else because his muscular dystrophy made it too hard to get his jeans on.
But thanks to this mama's amazing perseverance and vision other mother's will get to give their children with disabilities a different response. After dealing first hand with the limited clothing options for children with disabilities, Mindy started a non-profit called Runway of Dreams to address these challenges.
And now Runway of Dreams is partnering with designer Tommy Hilfiger to launch the first-ever adaptive clothing line for children with disabilities! The line, which launches this spring, uses innovative techniques to make clothes easier to get on and off and helps clothes fit around mobility devices. (Not to mention the clothes are precious!!!) You can purchase clothing from the adaptive line here.
I love that Tommy Hilfiger is taking his brand to the next level and truly making fashion available for all types of bodies. What may seem like a small thing to most people, is undoubtedly going to have a huge impact on kids like Oliver who for the first time will be able to dress like all the other kids in their class. I hope other brands follow suit and incorporate these innovative designs in their future lines.
Every kid, no matter their abilities, is a beautiful blessing from God. And now, thanks to the hard work of one mama grizzly and Tommy Hilfiger, a whole group of kids who may have felt like outsiders in the past, are going to get to feel beautiful in clothes uniquely designed just for them! I just love that!
Stay in touch with Bristol! Like Patheos RED on Facebook: