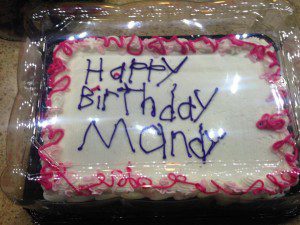 Have you ever ordered a birthday cake from a store and been disappointed with the decorations on the cake?  Well one woman in Michigan had cause to complain when she received her cake back after asking a bakery employee to write "Happy Birthday" on her cake.  Yet her beautiful response left me in tears!
The woman told her story on Facebook:
Picked out a cake at Meijer. Asked bakery-looking-employee if she could write on it for me. She said she would, and after a long time, she came and presented me with this cake. I looked her In the eye and said thank you before I even looked at the cake. After looking, I nervously laughed and headed to check out- it didn't really matter to me that it looked so bad- I thought people would think it was funny. The cashiers at the self check out didn't think it was so funny though, and called a few more cashiers and a manager over to look, even taking pictures. To my surprise, after they discussed it, one cashier put her arm on my shoulder and said "the girl who wrote that has Autism. Thank you for smiling and thanking her- even though she's not supposed to write on cakes, you probably made her day." So I guess the moral of the story is that kindness is important!
I think this cake is absolutely beautiful, as was the response of this woman!  What an amazing woman to not respond immediately in anger, but instead to realize the design of her cake was not that big of a deal in comparison to treating the employee with respect.  Little did she know what a big deal that gesture would end up being to this young girl with Autism.
Oftentimes we will never know what the person we are interacting with is dealing with that day- be is at bad day, a tough home situation, an illness, or a hidden disability.  To me this story embodies James 1:19 which says "My dear brothers and sisters, take note of this: Everyone should be quick to listen, slow to speak and slow to become angry."
May we all treat each other with such grace and dignity today!
(Photo: Facebook)
Buy my Mom's new devotional, Sweet Freedom, in bookstores everywhere!
Read more on the Patheos Faith and Family Channel, fan me on Facebook, follow me on Instagram and follow this blog on Twitter!