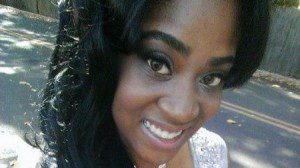 On November 17th, around 100 students participated in a peaceful rally at Kean University, joining together with students across the nation protesting racism on college campuses. Around 10:00 p.m., an anonymous Twitter account was created @keanuagainstblk and began tweeting about hating black people at Kean University, a bomb threat, and wanting to shoot black people.
But there's a twist.
An investigation into these threats revealed what really happened. NJ.com has the details:
A recent Kean graduate has been charged with being responsible for a series of tweets threatening black students at the school two weeks ago, acting Union County Prosecutor Grace H. Park announced Tuesday.

Kayla-Simone McKelvey, 24, of Union – a black alum who graduated in May – was charged by summons with third-degree creating a false public alarm.

Park said an investigation by the Union County Prosecutor's Office's Special Prosecutions Unit and Kean University police found that McKelvey, a self-proclaimed activist, participated in a student rally to raise awareness of racism on college campuses on Nov. 17, but left midway through and walked to a computer station in a university library. [..].

After making the posts, McKelvey returned to the rally and spread awareness of the threats, authorities said.
This is outrageous!  Apparently the protest wasn't exciting enough for McKelvey, so she went and upped the ante by sending false hate tweets and bomb threats?
And who gets blamed for her actions?  Anyone who dares to question the motives and actions of anyone in the #blacklivesmatter movement.
And is this story an isolated incident of fake racism?  Nope.  An NBC affiliate in Connecticut just reported that a black police officer just admitted to sending a threatening racist letter to the police mailbox.
A former Bridgeport police officer who claimed someone left a racist memo on police letterhead in his mailbox at headquarters in February admitted to writing the letter himself and has been charged with filing a false report, according to police.

Former Officer Clive Higgins reported that he found a racist hate letter in his police mailbox the morning of Monday, Feb. 9 and feared for his life because of it.

The report of the racist letter prompted the Bridgeport Guardians, a minority officers' organization, to hold a news conference, calling the letter "racial, insensitive and threatening." They said it was the most recent of at least three hateful notes to circulate within the department within a year.

State police were called in to investigate and reviewed surveillance from the station, which they said showed Higgins typing and printing documents just before going into the room where he said he found the letter, according to the report.

While Higgins said he feared for his life, surveillance showed him smiling and talking when he returned from the room, according to state police.
This is why we can't solve the real problems in our nation. The real problems in our society can't be solved if there are fake threats at every turn. Social justice warriors hoping to draw attention to the real problems actually hurt the chances for a solution when they lie and manipulate.
It's wrong and real victims should be the angriest.  No one is going to bat an eye when real cases of racism happen when the activists themselves cry wolf.
It just goes to prove the dangers of a culture of victimhood, where people are more concerned about making themselves the biggest victim than they are truly doing what it takes to solve the real problems in front of us.
Enough of this bull. There are enough problems that need to be solved without creating fake problems to make yourself feel a special kind of victim. If you create fake threats against yourself and your friends, you're a special kind of perpetrator.
(Photo: LinkedIn)
Buy my Mom's new devotional, Sweet Freedom, in bookstores everywhere!
Read more on the Patheos Faith and Family Channel, fan me on Facebook, follow me on Instagram and follow this blog on Twitter!