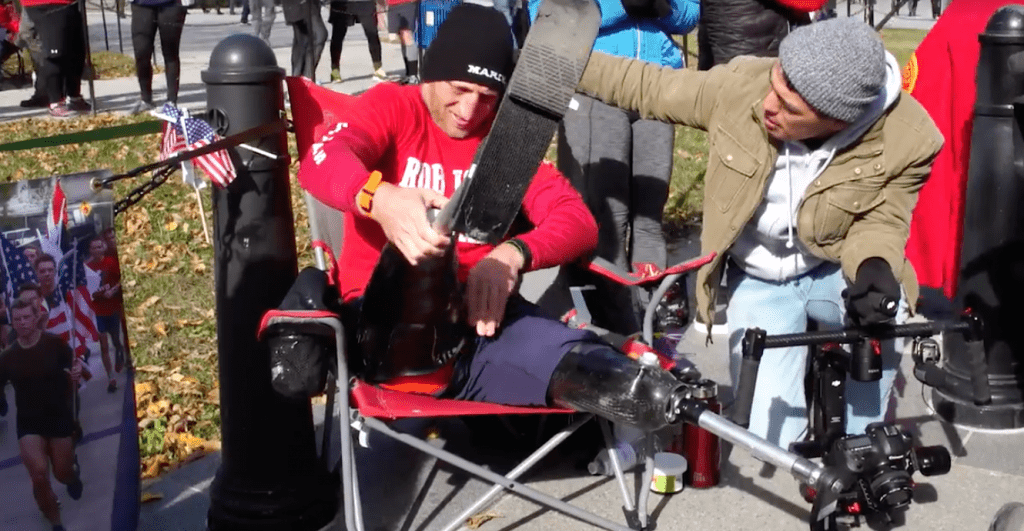 This guy should be our inspiration – this is the type of man I want my kids to look up to:
Marine Corps veteran Rob Jones wanted to change the narrative of the broken-down, wounded veteran struggling to transition to civilian life. So for the past 31 days, he kept running.

He ran to prove a point and to inspire. Jones, who had both legs amputated after being wounded by a land mine while serving in Afghanistan, ran the distance of 31 marathons over 31 days in 31 different cities.

On Saturday afternoon, with his back aching and legs sore, the 32-year-old Jones finished his month of marathons near the steps leading up to Lincoln Memorial on a frigid Veterans Day. The crowd of several dozen supporters showered him with cheers as he crossed the tape. Jones then kissed his wife, Pam, smiled and took a few moments to let the accomplishment soak in.
He went on to say that he's sick and tired of veteran-comes-home-from-war-and-can't-function narrative.
You want to talk about oppression, Colin Kaepernick?? Let's talk about the fact that this man lost both legs – and he's showing us all how to overcome, and inspiring so many people along the way.  
You probably saw that Monday, GQ magazine recently named former San Francisco 49ers quarterback Colin Kaepernick "Citizen of the Year."  Of course, Kaepernick is not worthy of such an award… not that GQ is a great cultural barometer of of who is worthy and who is not worthy.
Former ESPN reporter Britt McHenry
said it best
:
"Wear socks depicting police officers as pigs; wear Fidel Castro as a fashion statement IN MIAMI; sue NFL for collusion when gf compares owners to slave owners… Win Citizen of the Year," she wrote. "Serve in the US Military…nothing. What a joke, GQ. #Kaepernick."
Exactly.  We should look to people like Jones if we want to see what real service looks like.
"I decided I would create this story of a veteran that was wounded and thrived from it," Jones said after he completed his goal. "I think I accomplished that mission."
This is incredible.
Watch the video below and be inspired!
Hat Tip: Washington Post