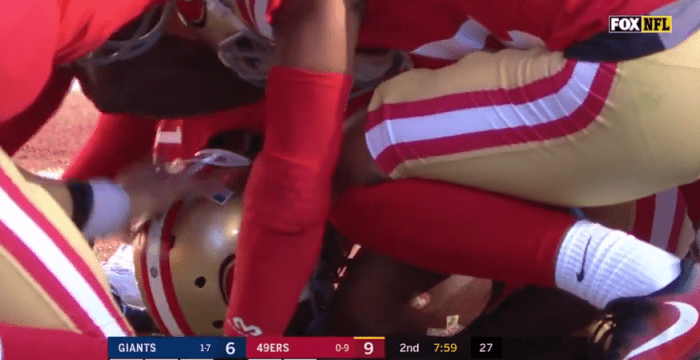 My heart hurt after seeing this.  Watch as San Francisco 49er Marquise Goodwin scored this emotional 83-yard touchdown…  only to drop to the ground once he reached the end zone.
Marquise Goodwin scored this emotional 83-yard touchdown just hours after he and his wife, Morgan, lost their newborn baby boy due to complications during pregnancy. (h/t @MaioccoNBCS) pic.twitter.com/zTrqhNBNQc

— Rob Lowder (@Rob_Lowder) November 13, 2017
Apparently, he was so emotional, because his son had just died hours ago. On Instagram, he wrote, "I just wanna thank those who've genuinely prayed for @morganakamomo & myself through out this pregnancy. Unfortunately we lost our baby boy due to some complications, and had to prematurely deliver him early this morning around 4am. Although we are hurt, I am grateful for the experience and grateful that God blessed me with a wife as courageous and resilient as Morgan. The pain (physically, mentally, & emotionally) that she has endured is unbelievable. Please Pray for the Goodwin family."
Devastating.
Here's the photo that he posted on Instagram, a poignant reminder of the beauty of life:
What a painful loss, what a wonderful tribute.
His beautiful wife also posted on the loss and asked for privacy and prayers:
This whole week has taken an emotional toll on my husband and I, Struggling to keep our healthy baby safe in my womb. However, God had other plans for us. Today, I had to deliver my precious baby boy early this morning due to preterm labor. Despite our loss, my hubby kept grinding, scored his son a touchdown & got our first "W" of the season. He had a wonderful game today. I️ appreciate everyone who kept us in their prayers and constantly checked in on us. This was truly and an amazing experience and it was also a tragic experience. But that's okay because we won't stop fighting and we won't give up on what God has in store for us. It's just important for us to remember that things happen for a reason, even though we may question ourselves "why us." Our faith is strong. I just ask that you let us mourn in peace and ask that you not try and call/blow our phone up.
The photo says it all.  Prayers for this family.