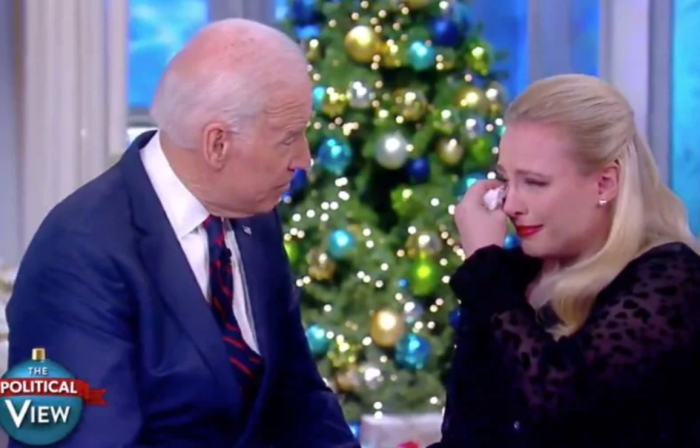 Ohhhhh….. This is so sweet to see on television.  As some of you know John McCain's daughter Meghan (who recently got married) is now on "The View." Yesterday, Vice President Joe Biden was on the show.  When Meghan, began asking him about Biden's son Beau — who died from the same brain cancer her dad has — she got choked up.
Vice President Biden got up from his seat and moved closer to Meghan, then offered her some encouragement.  He said that he and her dad are long term friends… Even when McCain told Biden he needed to get off the Democratic ticket as Vice President.  The audience laughed.  However, on a serious note, Biden said this about how his son dealt with his diagnosis.  IJR has the story.
During the heartfelt moment, McCain looked to Biden — who lost his son, Beau Biden, in 2015 after he was diagnosed with the same cancer as Sen. John McCain (R-Ariz.) — for advice.

"I couldn't get through your book, I tried," McCain said, tearing up. "I think about Beau almost every day, and I was told that this doesn't get easier."

As McCain began to get emotional, Biden made his way over to her, grabbing her hand and reminding her of her father's courage and, in particular, how her father helped Beau.

"One of the things that gave Beau courage … was John," Biden said. "Your dad took care of my Beau … became friends with Beau. Beau talked about your dad's courage. Not about illness, but about his courage. […]

"There is hope, and if anybody can make it, your dad [can]," Biden told McCain. "Your dad is one of my best friends."
A nice moment, one that doesn't have to do with politics at all.  My heart goes out to the McCains during what must be a very difficult time.
Watch the moment below:
In emotional moment on @TheView, Joe Biden consoles Meghan McCain, whose father was diagnosed with same cancer Biden's late son Beau had. "There is hope. And if anybody can make it, your dad [can]." pic.twitter.com/m986NrFa1J

— Evan McMurry (@evanmcmurry) December 13, 2017
Image Credit: Screen Cap
Hat Tip: IJR