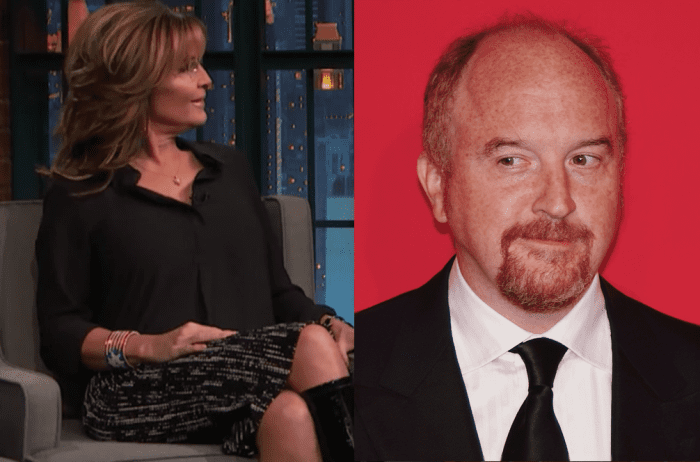 Comedian Louis CK has recently been outed as a sexual pervert, and the world pretended to be shocked.  However, he said some very public, vile things about women — but no one noticed since it was about my Mom.  
You know, a Republican woman.  The kind no one pays attention to.
"I want to rub my father's c-ck all over Sarah Palin's fat t-ts," he tweeted.
Here are the screen shots of the tweets that he has since deleted, captured by BuzzFeed: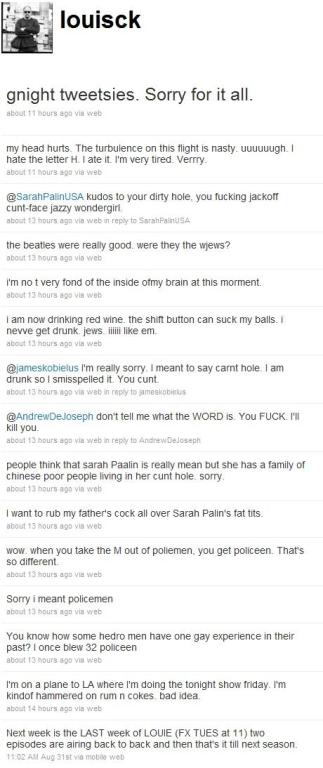 Gosh, who could've foreseen that guy would've been an anti-woman weirdo?
He apologized:
At the SNL afterparty, Palin approached C.K. and complimented him for being funny.

"Something came over me emotionally, and I said 'well, I owe you an apology,' " C.K. told Stern. "I've never in a million years apologized for anything I've said. F— anyone else who is offended. I don't give a shit."

C.K. said one of Palin's handlers thanked him for the apology. When C.K. told Palin he had said some bad things about her, she joked, "Well, you're a vile person," making the comedian laugh. She went on to invite C.K. to go fishing with her if he were ever in Alaska.
So, my Mom reacted graciously and kindly to him.  Of course.
But isn't it interesting that he was showing all the sign of treating women way back then… and no one noticed?
Watch Mom explain her interaction with Louis CK below:

 Image Credit: Screen cap and Wikimedia