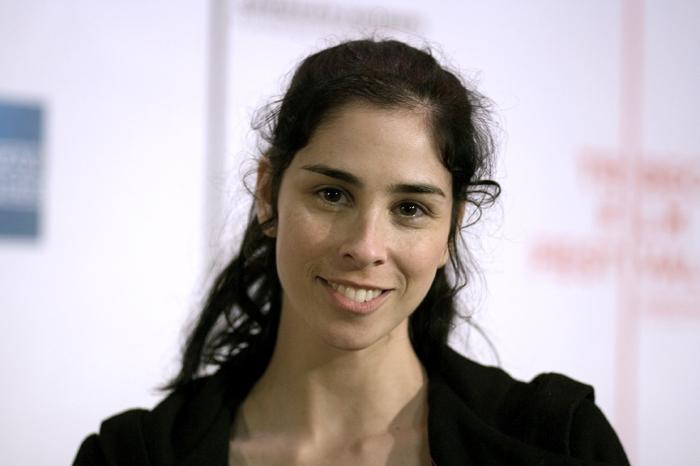 Yes!  We need more kindness — even on social media.
The Washington Post's Allison Klein writes about an amazing, soul-encouraging exchange on Twitter. (Yes, you read that correctly!)
A few days after Christmas, Sarah Silverman — a frequently off-color, liberal comedienne — was attacked on Twitter by a male user who called her a nasty, sexist word.  (Hint: it's usually used to crassly describe a part of the female anatomy.)  You can be forgiven if you would've expected Silverman to obliterate this guy.  Instead, she responded with kindness and compassion.
In response to this one-word tweet, Silverman responded, "I believe in you. I read ur timeline & I see what ur doing & your rage is thinly veiled pain. But u know that. I know this feeling. Ps My back … sux too. see what happens when u choose love. I see it in you."
The Twitter user — @jeremy_jamrozy – who lives in San Antonio opened up to the woman he had just insulted.  "I can't choose love. A man that resembles Kevin spacey took that away when I was 8. I can't find peace if I could find that guy who ripped my body who stripped my innocence I'd kill him. He … me up and I'm poor so its hard to get help," he wrote.
"Good. I want to kill him too so I can't imagine your rage. All I know is this rage — and even if you could kill him— it's punishing yourself," the celebrity comedienne responded.  "And you don't deserve punishment. You deserve support. Go to one of these support groups. You might meet ur best bros there."
This kindness caused him to apologize to her for being so rude, and he said he'd try to find help.
"Dood I don't care. I'm fine. I see something in you," she said.  "My gut tells me you could have a great life. My shrink says we don't get what we want, we get what we think we deserve. I'm telling you, you deserve so much more than you know."
Jeremy was touched, but incredulous.  "Lol how?? And wut do u see?? Im jus confused how u can see that I can do better. I have multiple problems a big hole to crawl out of. And usually I choose not to express it or its hard to articulate my emotions."
Silverman responded in such a sweet way:
Welcome to the human race, Friendo. You are not alone https://t.co/ePkVCvJ7Is

— Sarah Silverman (@SarahKSilverman) December 29, 2017
I love this.  And the story gets even better.  The man set up a GoFundMe account with a goal of $150, so he could try to get help for his back.  Already, he's gotten almost $3000.
Here's his response:
Thank you to all the support financially, emotionally, and donations. This is more than I could have wished for. Thank you nicos organics I received ur package am excited to try the products out. Thank u everyone. U showed me a lot within a few days. Love u all

— Jeremy jamrozy (@jeremy_jamrozy) January 5, 2018
Image Credit: Joan Garvin (kirby10011) (Flickr) [CC BY 2.0 (http://creativecommons.org/licenses/by/2.0)], via Wikimedia Commons