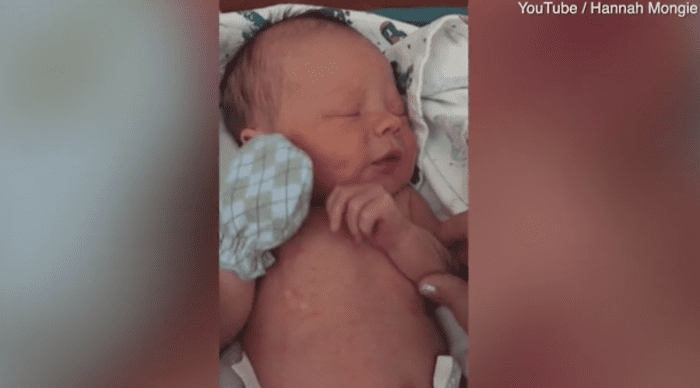 This was totally making me tear up this morning!
Here's an incredible story of a mothers love.   Hannah Mongie was 18 when she got pregnant with her boyfriend of eight weeks, a missionary named Kaden Whitney.
Since they were young and hadn't been dating very long, they considered giving the baby up for adoption.  It wasn't an easy decision, but one that ultimate gave the young couple some peace. "We went back and forward, but eventually Kaden said that we needed to do what was best for the baby and in our case we felt like that was adoption," Hannah said.  "When we came to that decision together we felt an immense amount of peace about it."
But only two months into her pregnancy, her boyfriend died unexpectedly from natural causes while sleeping.  She gave birth to her son, whom she named Taggart, and spent 48 hours with him before handing him over to his adoptive mother.  But while she had him, she made a very emotional video explaining herself to her son.
"I couldn't think," she said, "From the day your Daddy died I had a hard time even considering placing you with a different family when you were my last piece of Kaden. But one day I woke up and just knew you were supposed to be with someone else… If I didn't love you I wouldn't be in the position at all and you wouldn't have this awesome family. I'm going to give you all the kisses I can before I sign you away to Brad and Emily."
Brad and Emily Marsh are Taggart's adoptive parents.  
Though Hannah didn't want to give up her child, especially since her boyfriend had passed away, she received guidance from her parents.
"My dad just said what Kaden and me had already talked about, that our baby deserved to wake up in his crib and have both a mom and dad there to love him.  I was so torn about it for a while but one day I woke up and I just felt this unexplainable peace. I knew I was going to do this. It was what was best for our baby."
What a selfless act of love.  Thanks to an "open adoption" arrangement with the parents, Hannah gets to babysit her son.  I love how all of the people involved with this pregnancy did everything they could to make life better for this sweet little boy.  Here's a part of the video Hannah filmed for her son.
But you might want to grab a Kleenex!
Image Credit: Screen Cap
Hat Tip: The Daily Mail