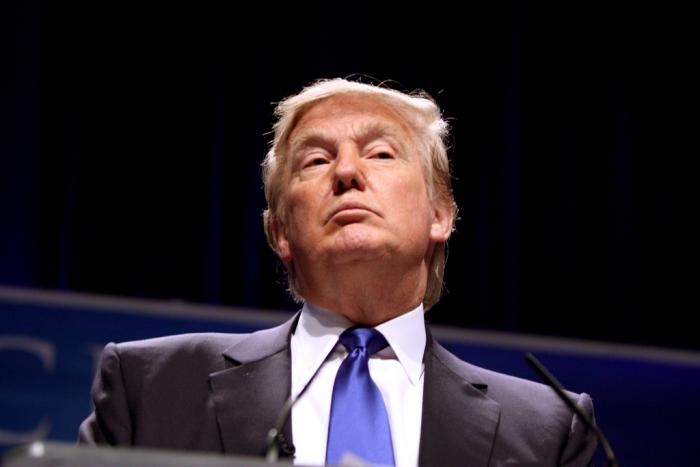 Did you know when you become President that the whole world will get to see your medical information — including your weight?  Well, that's what happened today when President Donald Trump's doctor gave him a four hour exam.  Guess what? He's in great health.

Oh, and he weighs 239 pounds.
Immediately, the media went nuts.  They apparently believed he would weigh more than that, or that his health would be horrible because he ordered a hamburger in China or something. Instapundit wrote, "As Rich Weinstein emails, 'The left questioning Trump medical report should forever be known as 'girthers.'"
Ha!
The White House doctor fielded all kinds of questions…  and even handled questions about his mental fitness adeptly too:
Yet, it was the persistent questioning about Trump's mental health that Jackson handled most effectively. The admiral showed no signs of being pressured into his answers and had no doubts in his delivery. Specifically ruling out any pressure or privacy concerns from Trump, he affirmed that the president is in "excellent condition" and "is mentally very sharp." Jackson referenced Trump's 30 out of 30 result on a commonly-applied cognitive test that is used by psychiatrists across the nation to indicate possible mental illness.

What does this mean?

Well, put simply, that Jackson has no qualms qualifying the president as "fit for duty."

Indeed, to the chagrin of much of the press corps, Jackson seemed medically wowed by Trump's health. The former "Apprentice" host, he said, "has as a very unique ability to just get up in the morning and reset."
I'll guess you'll have to try again, media.  The President is in great health.  And his mind is sharp…  yes, even if he says things you don't agree with.  Deal with it.
Watch the press conference about his health — and you'll get a laugh out of the media absolutely going nuts over the doctor's report.
Image Credit: Gage Skidmore on Flickr
Hat Tip: Instapundit