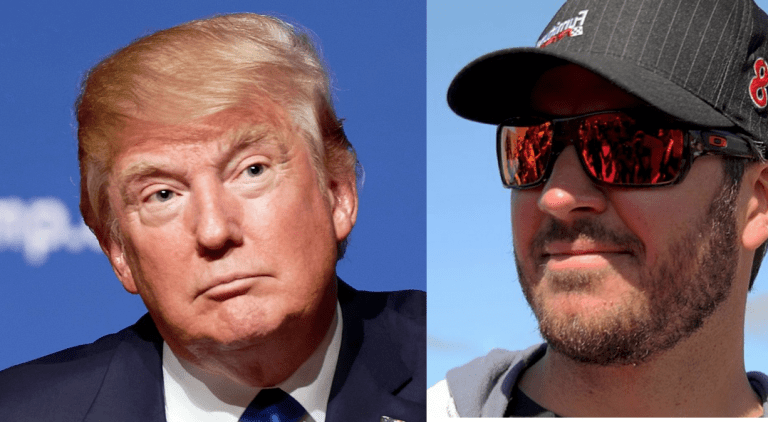 It seems to be happening with more and more regularity.  Athletes win a title, are invited to the White House — which is traditional courtesy — and then they decline the invitation with much fan fare.  Usually on Twitter, they proclaim they would never meet with Donald Trump, because they are more ____ than the President.  (You can fill in the blank here, but the reasoning varies from person to person.)
Not so with NASCAR's Martin Truex Jr. He went on record early saying that he would consider a visit with the President an honor.  When he recently had the chance to meet Trump, it seemed to be a mutual adoration-fest.
"I will tell you one thing I know about NASCAR," Trump said in front of the White House. "They do indeed […] stand for the playing of the national anthem."
Well, that's the truth!  Rarely do you find a more patriotic event than a  NASCAR race.
"What an honor to be here today," Truex said. "Thank you, Mr. President for having us, for having our whole entire team to represent the sport of NASCAR."
He gave Trump a helmet, but Trump didn't commit to wearing it!  (You don't want to mess with the hair!)
Later, when he was asked about how the visit went, he wasn't stingy with his praise.  "Oh my God, it was amazing," he told TMZ.  "The president was an unbelievable host. He showed us everything that he didn't have to show, so it was really cool."
Famously, Tom Brady, Brock Osweiler, Matt Birk, Dan Hampton, Tim Thomas, and Stephan Currey refused to meet with the President for political reasons.  (Among many others.)  According to "Civilized," some NASCAR drivers have declined to meet with Trump:
NASCAR Drivers Greg Biffle, Kurt Busch, Carl Edwards, Kevin Harvick and Tony Stewart all turned down Obama's invitation to the White House in 2011 due to scheduling conflicts.

And their reasons were legit since all of them — Biffle, Busch, Edwards, Harvick and Stewart — have met with Obama on separate occasions.
You gotta love NASCAR!  Truex was the 2017 NASCAR Cup Series champion. ESPN has some of Trump's praise for the winner:
"You [had] 19 top-5 finishes and led more than 2,000 laps. Does it get lonely being in front?" Trump said as he turned to Truex. "Not at all. Never, right? … Thanks to incredible speed, lightning-fast pit stops and exceptional driving, this team stood alone among NASCAR's many contenders."
Image Credit:  Pinkerton Academy, August 19th, 2015 at the New Hampshire Town Hall at and Sarah Stierch [CC BY 4.0 (https://creativecommons.org/licenses/by/4.0)], from Wikimedia Commons